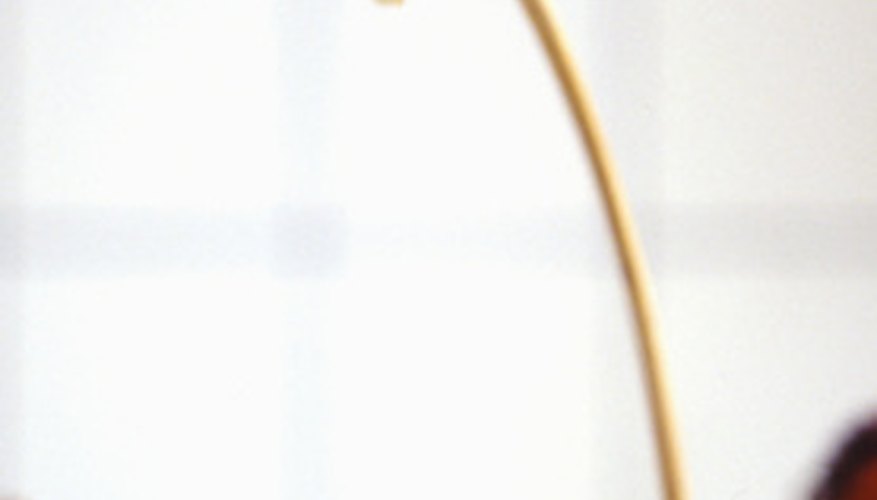 There are many ways to use dried flowers, from decorative bouquets to wall-mounted plaques. Knowing how to display dried flowers allows you to save garden flowers or sentimental bouquet blossoms. Displaying dried flowers in your home provides comforting feelings inspired by nature. Your creativity is the only limit when it comes to experimenting with dried floral crafts.
Vase Display
Gather a fistful of long-stemmed dried baby's breath or another small flower variety. Dried decorative grass such as pampas grass also works. Use your imagination. Any small-blossomed dry flower type works for the filler part of the display.
Place the filler flowers or grasses into the vase and allow them to fall naturally into place.
Insert two or three dried flowers into the vase, placing them sporadically throughout the dried filler flowers or decorative grasses. Dried tulips, roses, daisies and even flowered lilac branches add accent to the floral arrangement.
Place three long spikes of dried eucalyptus in the center of the dried vase display.
Tie a 12-inch length of silk ribbon around the neck of the vase, finishing it into a casual bow. Place the vase display on a mantel, nightstand table or other flat surface for viewing.
Wall Display
Place two or three dried flower petals in a random order on one of the acrylic sheets. Drop them on and let them fall naturally, or arrange them any way you see fit. Large petals such as rose, sunflower and lotus blossom are beautiful choices for this display option.
Squeeze a line of hot glue around the edges of the acrylic sheet.
Place the second acrylic sheet directly on top of the other, encasing the dried petals between them. Make sure the edges are evenly lined up so that the sheets adhere together with the glue. Press down firmly so as to further seal the petals into place.
Let the acrylic sheet containing the petals dry for about 20 minutes.
Place the encased flowers into a photo frame for displaying on the wall. The simplistic beauty of the flower petals adds accent to your current decor theme.