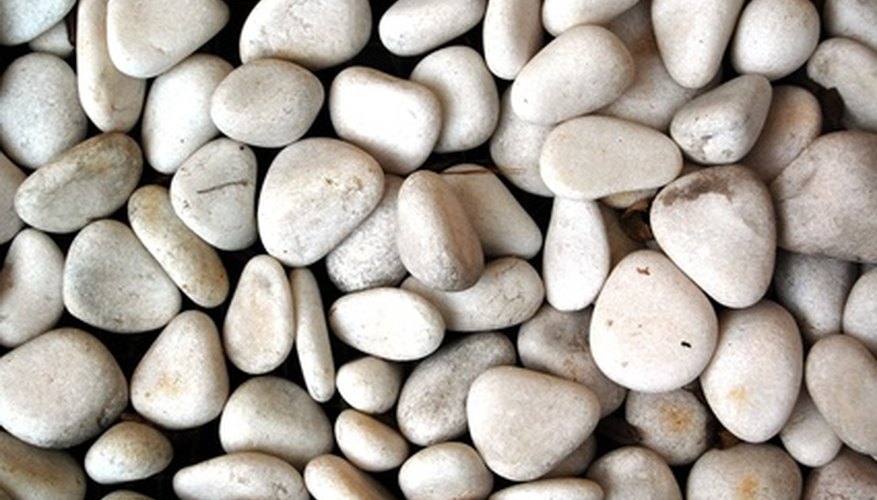 Mulching your planting areas serves several purposes that will enhance your landscape over time. Not only do mulches add to the aesthetic beauty of a landscape, they can also reduce weeds and conserve soil moisture. When you choose rocks as mulch, this inorganic material will remain attractive for years. Install landscape rock over a weed barrier because weeds tend to grow prolifically through landscape rock.
Cover the landscape area completely with a layer of landscape fabric. Cut the fabric to size and overlap each piece by 2 to 3 inches to ensure adequate coverage. If you have plants growing in the area, cut holes in the fabric for each plant and install the fabric around the plants. Securing the fabric is not necessary because the landscape rocks will hold it down tightly.
Fill the wheelbarrow with landscape rocks if you purchased the rocks in bulk. If you purchased the rocks in bags, position the bags near the landscape area.
Pour the rocks from the bags or shovel the landscape rocks from the wheelbarrow over the landscape area. If you have plants, shovel or pour the rocks carefully to avoid crushing your vegetation.
Spread the landscape rocks with the shovel, spreading them in a 3- to 4-inch layer over the landscape area. Spread the landscape rocks evenly over the entire planting area.
Things You Will Need
Landscape fabric

Scissors

Wheelbarrow

Landscape rock

Shovel
Tip
An advantage of installing the landscape fabric beneath the rocks is the fabric will prevent the rocks from settling into the soil. This will reduce settling of the rocks and you will not have to replenish the landscape rocks as often.