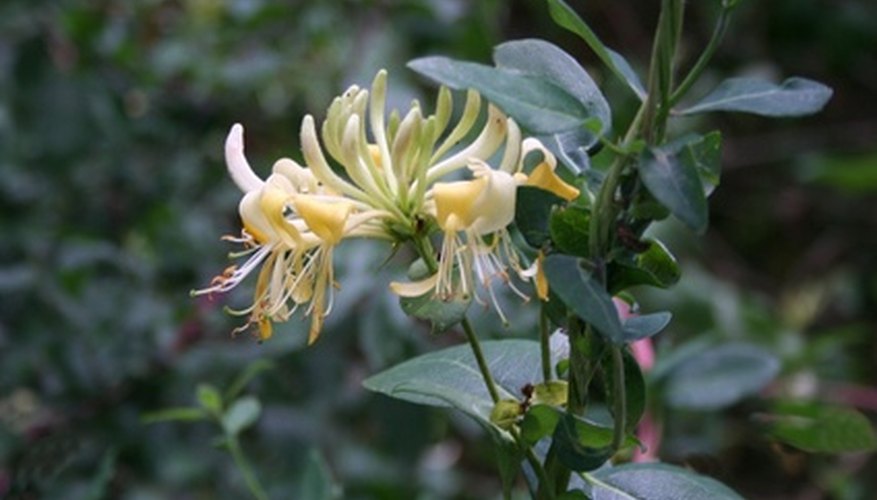 Honeysuckle is considered a woody shrub and is able to tolerate transplantation well, providing the right precautions are taken. Transplanting of honeysuckle should take place in the fall, once the plant has lost its leaves and entered its dormant state. Before transplanting, it is recommended to prune one-third of the honeysuckle's branches.
Root Pruning
Mark a circle around the honeysuckle that you wish to transplant. You can use a rope or spray paint to create the circle.The diameter of the circle should be 5 inches for every inch of the honeysuckle stem's diameter.
Dig a trench, with a shovel, around the outside of the circle's perimeter. Make the depth of the trench 9 to 19 inches, or until you have dug below the honeysuckle's root system.
Cut the roots, as you encounter them, with the shovel while digging. Any stubborn roots can be snipped with garden shears, if necessary.
Digging and Transplanting
Dig a hole in the new planting area large enough to accommodate the honeysuckle's rootball. Separate the topsoil from the subsoil into two piles.
Rinse excess soil off the exposed lateral roots of the honeysuckle. This lessens the chance of injury to the roots during transplanting. Leave some soil attached to the roots for protection.
Lean the honeysuckle to one side and, with a shovel, remove the soil beneath the honeysuckle.
Snip any attached taproots with gardening shears. Trim the rootball with gardening shears, tapering its shape at the bottom of the rootball.
Remove the honeysuckle from the ground and place the rootball in the center of a large piece of burlap. Wrap the rootball with the burlap to prevent the root system from drying out.
Transfer the honeysuckle to the new planting area. Unwrap the burlap from the rootball and gently place the rootball in the center of the new hole. Fill the area around the rootball with soil. Remember to replace the subsoil first, then the topsoil on top of the subsoil.
Tamp the soil down to ensure optimum contact between the roots and soil. Water the honeysuckle thoroughly.