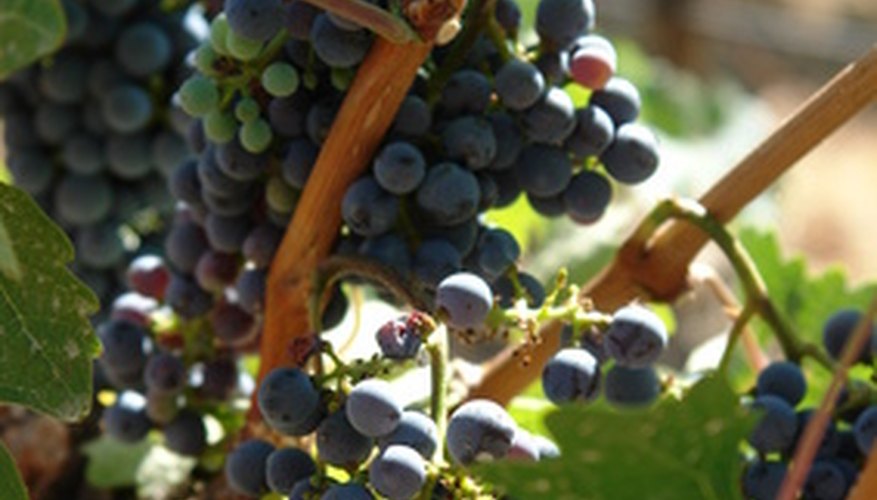 Every year up to 3 lbs. of grapevine must be removed from the plant in order for it to remain fruitful. Vines that are not pruned produce so many grapes that the plant has no energy to mature each grape to harvest. The dried canes that are removed from grapevines are a good material to recycle into garland for your home. Grapevine garland can give your home a rustic look.
Bundle dried grapevine into swags with each vine aligned the same direction. Roll the swags up to make them easy to transport and arrange.
Determine the way you want your garland to hang in your decor. Garland may be draped or hung in many different ways.
Attach anchoring hardware to hold grapevine in place. For example, if you wish to hang garland over an interior window, affix hooks with screw backs into the walls. You can attach masonry anchor bolts into the corners of a fireplace or to an exterior brick facade of your home.
Drape a drop cloth beneath your work surface before hanging a garland. Grapevine is made up of dried plant vegetation. Some of this dried vegetation will snap off of the vines and leave a mess. A drop cloth will allow you to clean up after yourself easily.
Unroll the vine in sections as you attach it to the anchoring hardware. Grapevine garland may be quite long. By keeping the vine rolled up, you can control the ends and avoid tripping hazards when working on ladders.
Wrap 12-gauge floral wires around the circumference of your grapevine bundle at each point where you will attach it to an anchor. Create a loop in the end of the floral wire. Slip the loop over the hook of your hardware.