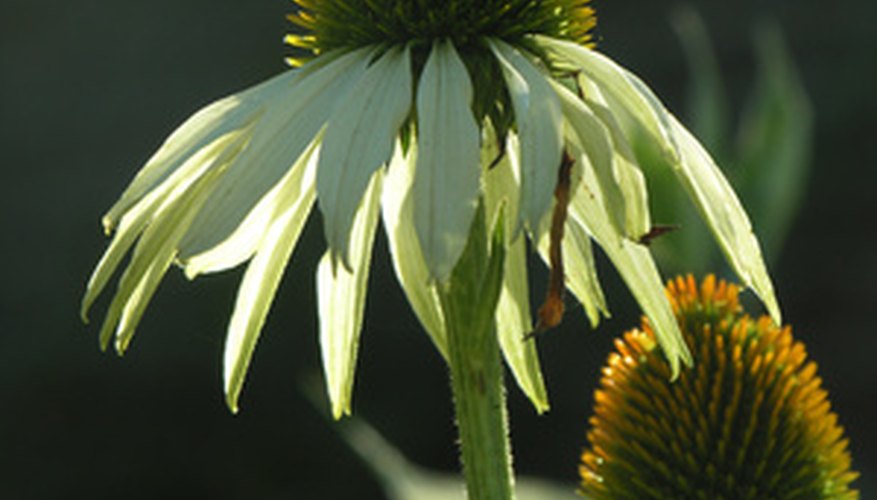 Garden flowers give your landscape color and, when planted during every season, keep the garden looking vibrant year-round. Grown in a wide range of types, including perennials and annuals, garden flowers vary in shape, size and bloom color. When planted together to create a mixed flowerbed or used alone in containers, flowers create a showy display in the garden.
October Skies Aster
October skies aster (Aster oblongifolius 'October Skies') is a fall-blooming herbaceous perennial flower that grows best in USDA zones 3 to 8. It grows 1 ½ to 2 feet tall and wide and has a moderate growth rate and spreading habit. The mounds of daisy-like, blue to purple flowers have a contrasting yellow center or "eye" and attract butterflies to the garden. The fragrant, 3-inch-long, untoothed, deep green foliage on October skies aster grows in low mounds and is tolerant of deer and frost. October skies aster grows best in full sun to part shade and well-drained soil but does well in sandy or clay soil. According to the Missouri Botanical Garden, "sky color in October is reportedly a darker blue than at other times of the year, hence the cultivar name for this plant."
White Coneflower
White coneflower (Echinacea purpurea 'White Swan') is a perennial flower that has a moderate growth rate and upright, clumping habit. It grows 1 to 3 feet tall and wide and is ideally planted along a flowerbed or border. The 4 ½ inch-wide, white, daisy-like flowers on white coneflowers have a copper to green central cone that attracts butterflies and birds to the garden and blooms from early summer to early fall. Hardy, white coneflowers are drought tolerant to withstand periods of limited moisture. They grow best in full sun and well-drained, deep soil. White coneflowers are also tolerant of heat, humidity and poor soils. To ensure a long blooming season, deadhead the spent blooms as soon as possible. Plant white coneflowers in USDA zones 3 to 9.
Snapdragons
Snapdragons (Antirrhinum majus) are an annual flower that grow best in USDA zones 9 to 11. They have a clumping growth habit and vigorous growth rate. The two-lipped, rounded blooms on snapdragons grow on upright racemes or spikes and come in a wide range of colors including, pink, white, yellow and red. Snapdragons bloom from summer into fall, creating a long-lasting blooming season. They vary in height and should be planted in a perennial bed or cutting garden. To ensure a long blooming season, deadhead the spent snapdragon blooms. Snapdgragons grow best in full sun and well-drained soil.