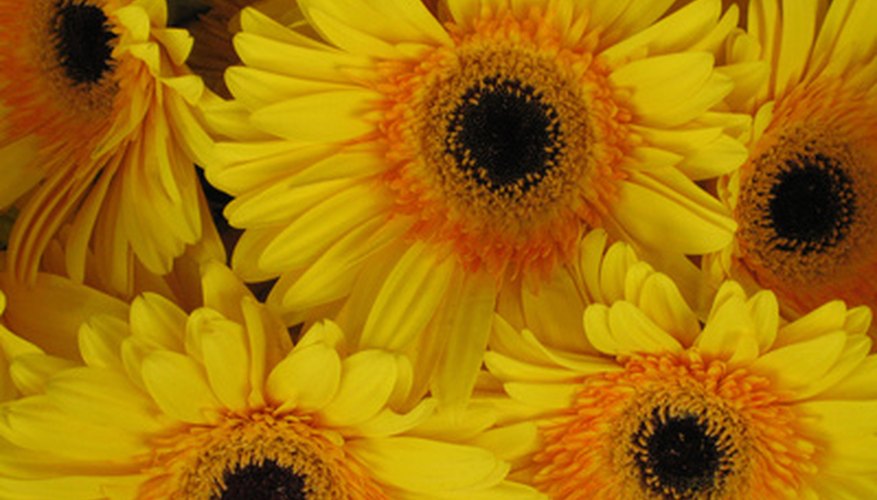 gerber daisy image by Susan Rae Tannenbaum from Fotolia.com
The gerber daisy, also called the common daisy or gerbera comes from the same family as the sunflower. Gerber daisies can be grown both indoors and outdoors, and are often used in craft projects. If you want to use your gerber daisy in a scrapbook, or as a centerpiece for your fireplace mantel, you will need to dry it to preserve it.
Cut gerber daisies only when you are ready to begin the process of drying them out. Cutting them ahead of time will mean the loss of color. The flowers will also begin to wilt quickly if you don't dry them out soon after cutting.
Remove any leaves from the gerber daisy that you don't want to keep.
Pour 1 inch of silica gel in a microwave-safe container that is big enough to fit your gerber daisy without having to bend it.
Set your gerber daisy in the silica gel with the petals facing upward. Position it the way you want it because that is how it will dry.
Pour silica gel in between the petals of the gerber daisy, and then cover it completely with the gel.
Set the container in the microwave and microwave on low heat in intervals of two minutes. Daisies cannot withstand high temperatures like roses can, so make sure you don't set the heat too high. Ayushveda Magazines recommends this method of drying for gerber daisies because it retains the most color compared with other drying methods.
Take the container out of the microwave and set the container's cover loosely over it. Leave it to sit for 24 hours.
Brush the silica gel off of the top of the gerber daisy and then gently pull it out of the container. Finishing brushing it off to reveal your dried daisy.
Things You Will Need
Gardening scissors

Microwave-safe container

Silica gel

Soft bristle brush

Hairspray
Tip
For extra protection, spray your dried gerber daisy with hairspray, or acrylic craft spray.