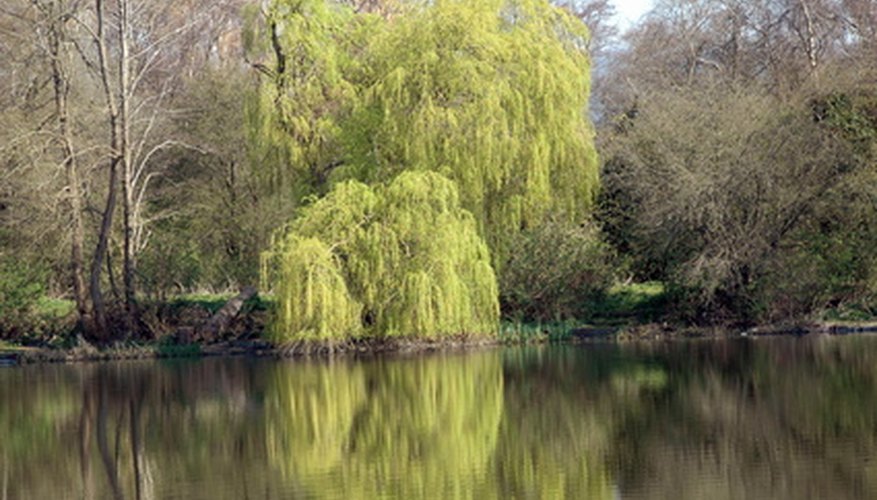 When it comes to size, willows are not among the largest trees. Most are very short and remain under 20 feet. A few, however, can get grow up to 50 feet or more. Selecting larger willows can be tricky since their branches are more brittle and break easier than other trees. Still, that doesn't mean you shouldn't consider them for your landscape, especially if looking for something to plant in a soggy area. Willows are amongst the few trees that seem to thrive in wet ground.
Black Willow
The black willow (Salix nigra) provides a good combination between size and usefulness. Although it can grow up to 100 feet tall, it averages around 50 feet. It is probably the most useful willow tree, to both animals and humans. It serves as food for deer and Eastern cottontails; shelter to raccoons, bats, wood ducks and butterflies; and as lumber for humans. It is also useful as a shade tree and along shores to stop erosion. It should be planted on moist soil in full sun. It is hardy in USDA Zones 3 through 8.
White Willow
The white willow (Salix alba) is one of the largest willow, reaching heights of up to 80 to 100 feet high. It has grayish-brown bark with long narrow leaves. Leaves are dark green with white undersides, which is how this tree got its name. In the fall, leaves turn a golden yellow. Plant it in full sun in moist soil; it will tolerate wet sites. It is hardy in USDA zones 2 through 9.
Golden Weeping Willow
The golden weeping willow (Salix alba 'tristis') is a common cultivar of the white willow (S. alba). It grows about 50 to 70 feet tall with weeping branches. It is easily distinguished from other weeping willows by its golden twig color. The branches are very brittle and break easily, which can make for a lot of clean up after a strong wind. Plant in moist soil in full sun. It is hardy in USDA Zones 3b through 8.
Hankow or Pekin Willow
The Hankow or Pekin Willow (Salix matsudana) grows between 40 to 50 feet tall with a similar width. It is fast growing and a good choice for wet areas. It is salt tolerant and adapts to different pH levels. Although the original form of this tree is not particularly attractive, it has several cultivars that are such as 'Tortuosa,' 'Golden Curls' and 'Snake.' All three varieties have branches that contort and twist, making for an interesting although slightly shorter tree. Plant them in moist soil in full sun. They are hearty up to USDA Zone 5.
Weeping Willow
The weeping willow (Salix babylonica) grows about 30 to 50 feet tall. It is easy to recognize with its open crown of long, sweeping branches. It prefers a moist soil in full sun. Roots can be invasive, so avoid planting near sewer and water lines. This willow serves as a good source of food for a variety of big game as well as rabbits and beaver. It is hardy in USDA Zones 6 through 8.