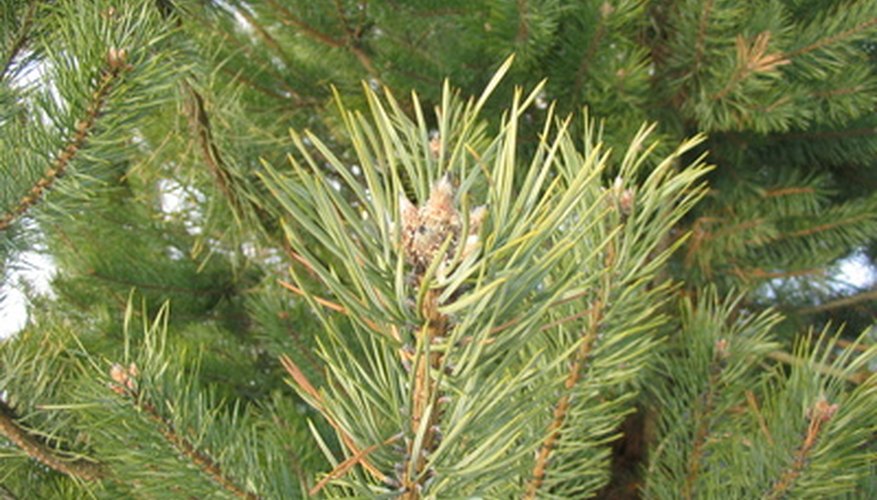 Spiral topiaries look great in any garden. They allow you to take an overbearing conifer tree and turn it into a beautiful centerpiece. You will be able to shape most conifers into spirals. However, if you choose a fast-growing species you will have to reshape the tree more often. Do not worry if initially your spiral tree looks a little sparse. Over time, and with continued maintenance, it will fill in and look stunning.
Tie a piece of ribbon to the top tip of the conifer tree. It may be helpful to use orange contractor's tape as this will be easiest to follow since it stands out.
Spiral the ribbon from the top down. Stand back to make sure the spacing is even and it is sloping at the angle you desire. Secure the ribbon to the bottom of the tree so it will stay in place.
Prune off the first third of each branch above the ribbon, starting in the middle of the tree and working your way up. Step back frequently to make sure you are forming the spiral you desire. When you are within 1 foot of the top of the tree, stop.
Prune off the first third of each branch below the ribbon. Again, start in the middle and work your way up. Step back to make sure your spiral at the top is matching up to the tape spiral at the bottom. Adjust the tape if necessary.
Prune the bottom half of the tree in the same way as the top. Trim first above the ribbon and then below.
Work from the top down and prune off each branch that you previously cut a third off. These branches should be cut 1/2 inch away from the trunk. Make sure with each branch you cut off that you are staying true to the rough outline of the spiral you initially created.
Blend the top of the tree into the spiral so it appears that the spiral begins from the top. Do this by trimming off just the tips of branches which follow the spiral pattern of the rest of the tree. Remove the tape.
Maintain your topiary by cutting off any branches that grow into the open space of your spiral.
Things You Will Need
Conifer tree

Ribbon

Pruning shears
Tip
Instead of using an electric trimmer to prune your tree, use either hand shears or topiary shears. This will give you more control.