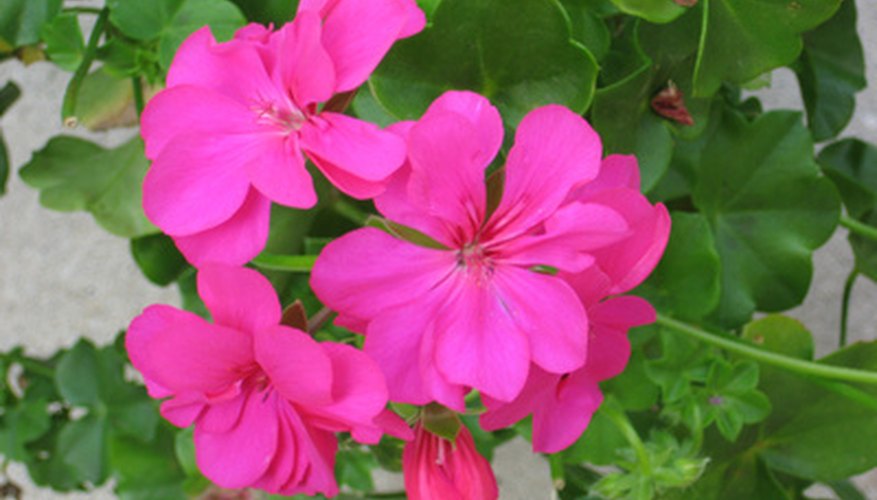 Slugs are the No. 1 enemy of many gardeners, especially in cool, damp climates. In spite of attempts to control slugs with a number of anti-slug tactics both chemical and organic, most gardeners are discouraged to see the slimy trails every morning, indicating that the slugs have once again feasted on a prize hosta or petunia. Maybe it's time to stop fighting and grow a variety of plants that won't be attractive to the slimy creatures.
Salvia
Slugs don't like plants that scratch their tender bellies, making hairy-leaved plants like salvia a good choice for a slug-free garden. Although slugs might feast on salvia if they are hungry enough, salvia won't be on top of the food chart. Saliva is a fast-growing flower that thrives in full sun and moist, well-drained soil. Once established, salvia will bloom brightly all season. Salvia is hardy in USDA Hardiness Zones 3-8.
Geraniums
Geraniums have a strong scent that makes the plant resistant to slugs. Plant a geranium in your flower bed, and the bright green foliage and colorful blooms will remain untouched all season. Hardy in zones 4-7, geraniums will do well in nearly any soil but require full sunlight to bloom their best.
Ferns
Ferns are an ideal choice for a slug-resistant garden, especially since ferns will thrive in the same moist, dark conditions that slugs love best. Many gardeners in cool, damp climates have discovered that ferns can be planted next to hostas, helping to protect the hostas from their No. 1 enemy. Most ferns are hardy to zones 5-8, although some varieties can tolerate zone 4.
Lavender
With its distinctive, sweet aroma and stiff, scratchy foliage, lavender is not only a lovely plant, but is also one of the best plants for a slug-free garden. Lavender must be planted in well-drained ground and does best in poor, rocky soil. Although lavender is tolerant of cold weather, it won't do well in hot, humid climates. Lavender is hardy in zones 5-9.
Fuchsia
Although fuchsias have a fragile, delicate appearance, slugs will nearly always pass by fuchsias for more appetizing plants. With proper care, fuchsias will bloom all summer long. Fuchsias like cool weather but aren't frost tolerant and won't last long when planted when exposed to hot weather or direct sunlight. Fuchsia is hardy to zones 10-11.