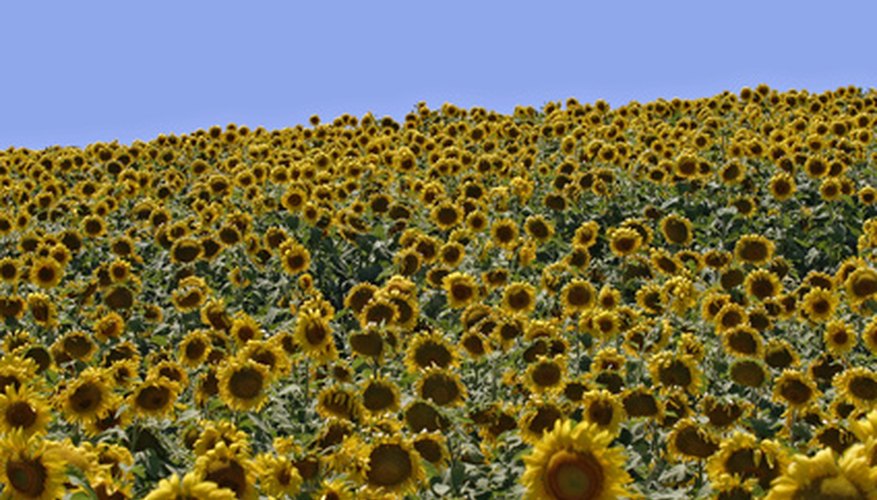 Sunflowers are annuals that grow from 18 inches high to more than 10 feet. The flowers are up to 10 inches across for the taller varieties. The seeds form concentric circles and are surrounded by long oval-shaped petals. Sunflowers bloom mostly in yellows and gold. There are sunflowers, however, that bloom in pink, cream and burgundy. Sunflowers may be single stemmed with one flower at the top or have branching stems with a sunflower for each branch.
Privacy and Screening
A row of sunflowers across a back fence increases the privacy of the yard and looks cheerful peeking over the top of the fence. Plant the sunflowers 12 inches apart for better coverage. Screen an unsightly air conditioner with dwarf sunflowers. Two weeks after planting the sunflower seeds, plant pole beans next to each sunflower. The beans will use the sunflower stalks as support. Create a hidden garden for children by planting a double square of sunflowers with a 3-foot entry to come and go.
Seeds
Sunflower seeds of a number of varieties are edible by humans and birds. Leave the stalks standing through the fall and winter as bird feed. Remove the seeds when the backs of the sunflower seed head have turned dark brown. If squirrels or birds are stealing the seeds, put paper sacks over the sunflower heads. Remove when the seeds are black--some varieties have a white strip--and plump. Soak the seeds overnight in a solution of 1/2 cup salt to 1/2 gallon of water. Drain, rinse and roast the seeds at 300 degrees for 30 minutes. The seeds are high in phosphorous, calcium and potassium.
Oil
Oil is expressed from the seeds for use in cooking and food processing. This isn't feasible to do at home. The type of sunflower used to produce oil is different than that used for snacks. The seeds are ground to a fine meal. The meal is roasted in the oven and then strained to separate the meal from the oil. It takes 35 lbs. of seeds to make 3 gallons of oil.
Dried flowers
The heads of the sunflowers dry well. Use them for late-summer and fall arrangements. Cut the smaller sunflowers with 12 inches of stem attached. Hang upside down in a warm, dark spot to dry. Don't dry the flowers in direct sunlight, as it will bleach out the color of the petals by the time the head is dry.