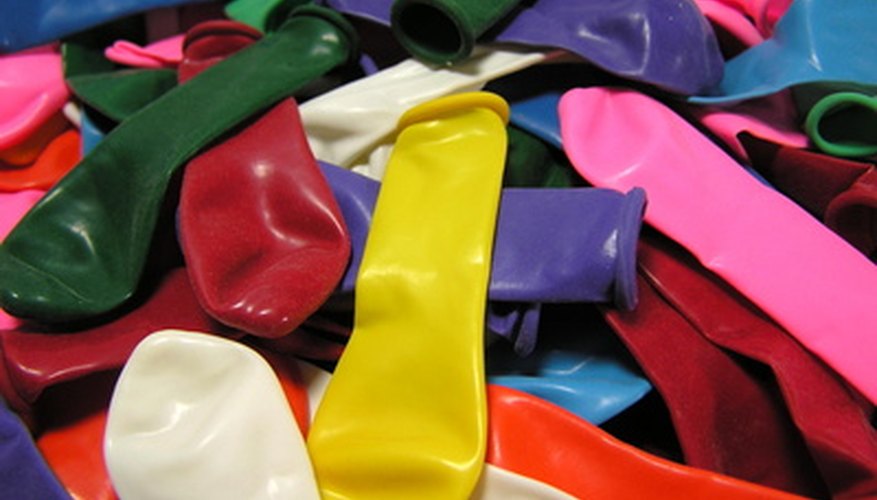 Topiary is traditionally a shrub that has been clipped into a sculptured shape, such as a perfect square or sphere. But topiary has also come to refer to one of the popular shapes that the shrub is clipped into: that of a ball on a stem. This is the shape that people refer to to when they speak of a topiary balloon tree. Making a topiary balloon tree as a centerpiece for special occasions is a simple process. The result is an inexpensive yet elegant table decoration.
Paint three dowel rods, 1/3 inch in diameter, with acrylic paint. Set them aside to dry.
Fill a terracotta pot with sand.
Insert the dowel rods into the center of the sand in the terracotta container.
Place the container in the center of a square of cellophane wrapping. Bring the sides of the wrapping up around the sides of the container. Tie the corners of the wrapping around the dowel rods where they emerge from the sand.
Inflate eight balloons, so that each is 5 inches in diameter. Tie the balloons together in pairs.
Twist two sets of balloons together where they are tied to create a cluster of four balloons. Twist in a third pair of balloons to make a cluster of six. Add the final pair of balloons to make a cluster of eight.
Carefully insert the dowel rod ends into the center of the balloon cluster.
Weave ribbon in and out of the balloon cluster and around the dowel rods. Tie the ribbon around the ends of the cellophane wrapping at the base of the dowel rods.