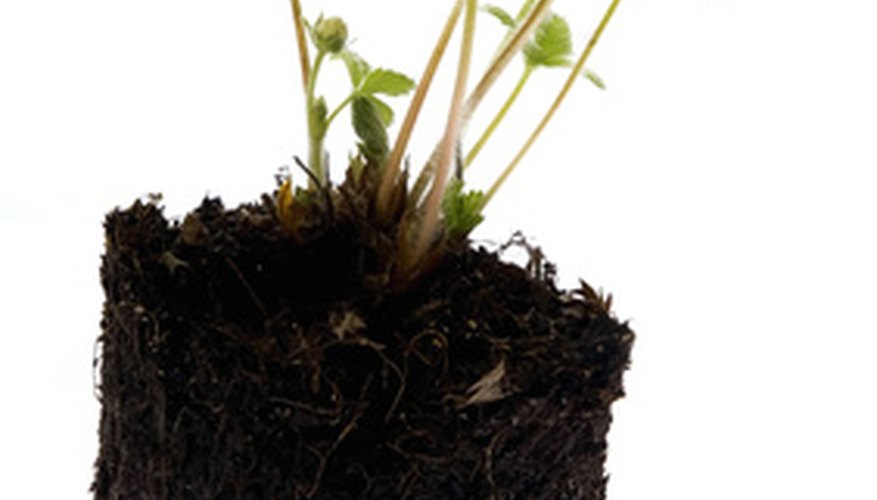 Container gardening is an alternative to traditional gardens when conditions are not right. Soil, space and other considerations make container gardening an option for those who want to grow strawberries. Strawberries can be grown just as well in containers as they can be in the garden. And the choice of container is as open as your imagination.
Function
There are a number of reasons for growing strawberries in containers. One reason may be the type of soil in your area. Strawberries prefer sandy loam or loam soil that is well-drained. Clay does not work as well. Another reason might be space. Small gardens or apartment dwellers may not have room to grow strawberries. Personal choice may the reason. Some decorator planting containers make lovely additions to porches, sunrooms and other living spaces as well as suitable containers for strawberry plants.
Types of Containers
Everything from plastic and clay to old wheelbarrows and wooden flower boxes can be used. Special strawberry pots are available, usually plastic but sometimes clay made of clay. They have a number of openings all around the pot and can range in height from 6 to 18 inches tall with the larger pots having more openings. Each opening accommodates a single plant. Choose a container that suits your purpose whether it is decorative or designed to garner the largest crop possible.
Materials for Containers
Wood containers are susceptible to rot over time except for redwood and cypress. If you want a long-term container garden for your strawberries, wood is not the best choice. Avoid containers that are made of wood treated with either creosote, penta or other toxic compounds as they can leach into the soil and damage the strawberry plants. Clay pots allow good drainage but may allow too much drainage. You'll need to water strawberries in clay pots more frequently. Glazed ceramic or metal containers will suffice as long as they provide drainage.
Container Water Concerns
Strawberries do not like wet feet. That is they don't like their roots to remain in water for long. The need for good drainage in the container is imperative. If the container does not already have drainage holes, drill some into the bottom of the container. A layer of gravel at the bottom of the container will also help with drainage. A container with no holes and a strawberry plant with too much water is a recipe for disaster.
Soil and Fertilizer
Garden soil is generally too heavy for container gardening. Strawberries prefer loam. Use a good potting soil rather than top soil from a garden center. Fill the container to about 1 to 4 inches below the top, depending on the size of the container. Fertilizer should only be added following the manufacturer's recommendations.