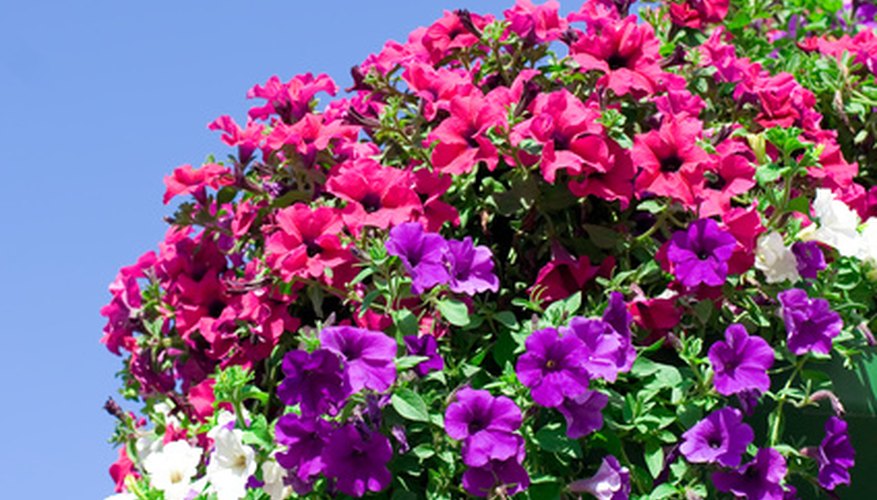 Create a commanding presence to the landscape by planting flowers in large pots. Large pots come in a wide range of materials, colors and shapes to fit into any space. A large pot can hold lots of mixed flowers or showcase a single bloom to create a dramatic display. Nestled along a front entrance or lining a backyard patio, large pots create focal points to the landscape and garden.
Lenten Rose
Lenten Rose (Helleborus odorus 'Double Queen') is an evergreen flower that emerges in winter to light up the garden with color. It grows 1 to 3 feet tall and wide and has a clumping and spreading growth habit, making this hardy perennial ideal for a large pot. The nodding-like flowers on Lenten rose are pink or white and have a smattering of speckles along the double flowerheads. The leather-like, deep emerald green foliage is lustrous to create a showy display in the container. Frost-tolerant, Lenten rose makes for an ideal winter container plant because of its ability to grow in below-freezing climates. Lenten rose grows best in full to partial shade and neutral to alkaline soil that is well-drained. Versatile, Lenten rose is tolerant of humidity and heat. Plant Lenten rose in USDA zones 4 to 9.
Hibiscus 'Kopper King'
Hibiscus 'Kopper King' is a large perennial flower that grows best in USDA zones 4 to 9. It reaches 3 to 4 feet tall and 2 to 4 feet wide and has a clumping growth habit, creating a dramatic plant to cultivate in a large pot. The five-petaled, 10- to 12-inch-wide pale pink flowerheads have a distinct red center or "eye" and attract butterflies to the garden. Hibiscus blooms emerge in July to last into September, creating a long-lasting perennial flower. The stunning copper to red foliage on hibiscus has orange to red on the underside of each leaf. Hibiscus grows best in full sun and well-drained, moist soil that is nutrient-rich. Deadheading spent blooms ensures a long blooming season.
Surfinia Petunia
Surfinia petunia (Petunia integrifolia) is an annual flower that grows 1 to 3 feet tall and has a rapid growth rate to fill a large pot quickly. The spreading annual has a cascading growth habit to spill over the container and create a stunning display. The funnel-shaped, 1-1/2 inch-wide, deep purple to pale lavender flowers creates nonstop blooms from late spring to the first frost. The billowing form of surfinia petunias also helps to create an ideal container flower that blooms for many months. Surfinia petunia thrives in full sun and loamy soil that is well-drained. They grow in all USDA zones.