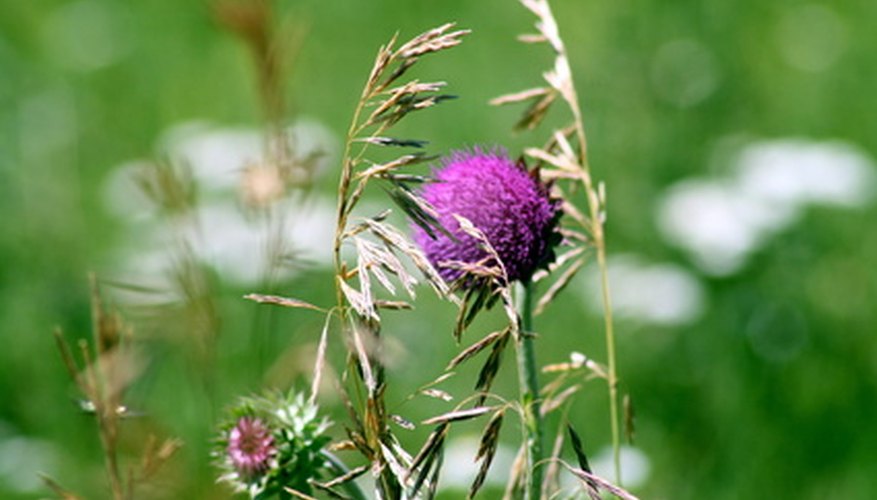 Flower and Weeds image by Towards Ithaca from Fotolia.com
Landscape filter cloth, landscape cloth, or landscape fabric is used as a water- and air-permeable weed barrier placed over garden soil to control weeds. There are several different grades available at different thicknesses. A thicker grade will last longer and give you years of carefree use although it is more expensive. Landscape filter cloth can be used in nearly all garden situations, but is usually used in permanent flower beds or rock gardens because of the cost involved to replace.
Clear the area of all weeds and garden debris so there is a smooth area to install the landscape fabric or filter cloth. Rocks and stumps will tear holes in the fabric that weeds can grow through. Use a shovel to dig out weeds, if necessary, and rake the area smooth.
Roll out the landscape filter cloth and use a pair of heavy duty scissors to cut the cloth into manageable pieces. Landscape cloth is available in rolls 3 to 6 feet long.
Lay the cloth over the garden area as desired working from the back, or the least accessible part of the garden, first. Set it around plants leaving 1 to 2 inches of space around perennials and trees. Overlap the portions of landscape cloth by 6 inches for best coverage. Use a sharp knife or heavy duty scissors to trim off any excess that may be visible around plants or permanent fixtures, once the mulch is installed over the fabric.
Push in the anchor pins every 3 to 5 feet to hold the landscape filter cloth in place. Try to push the pins into the areas where the fabric overlaps, if possible.
Cover the landscape fabric with a 1- to 2-inch layer of mulch for a professional and finished look.
Things You Will Need
Landscape fabric

Anchor pins

Heavy duty scissors

Sharp knife

Shovel

Rake

Mulch
Tips
If installing landscape filter cloth on a slope, place anchor pins as close as 2 to 3 feet. Also, overlap the fabric starting from the bottom of the slope to the top so water rushes over the fabric and cannot work under the fabric.

If installing in a new garden, lay the landscape cloth first then cut openings in the fabric to install the plants. This is best done by first cutting an "X" with a sharp knife where the plant will be located. Then, pull back the fabric and install the plant. Lay the cut fabric back over the area around the plant and trim off excess with a pair of heavy duty scissors or sharp knife.