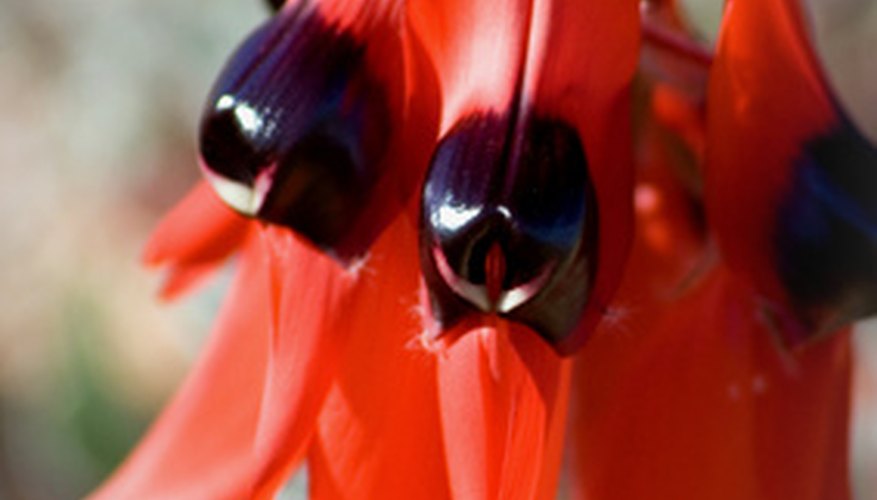 Australia is a vast country that contains a range of environments, from the lush tropical rain forests in the north to the cool coastal regions. By far the largest environment in Australia is the desert, which covers 18 percent of the the country's mainland. The expansive desert land of Australia is filled with native desert plants, some of which may be cultivated in the home garden.
Scaevola Outback Fan Flower
The scaevola outback fan flower (Scaevola aemula), also called the fairy fan flower, is an herbaceous evergreen perennial native to the deserts of Australia. The low-growing plant sports toothed green leaves accented by delicate fan-shaped flowers, which are available in colors ranging from pure white to purple, lilac and blue depending on the cultivar. Scaevola is popular in coastal gardens for its tolerance of soil salinity, and the plant also works well in a hanging basket where its graceful foliage can cascade over the sides. Scaevola does best in full sunlight or light shade in a well-drained, rocky or sandy soil. The plant is quite drought tolerant and should not be over-watered, as too much watering may cause root rot.
Sturt's Desert Pea
A member of the pea family, Sturt's desert pea (Swainsona formosa) is a low-growing flowering perennial native to the inland deserts and plains of Central Australia. The vine is the floral emblem of South Australia, a title it has held since 1961. Sturt's desert pea has distinct flowers, which are a deep scarlet accented by a glossy black "boss," a type of swelling on the outside of the petals. The plant may also be seen in shades of white or pink. Sturt's desert pea boasts rich green pinnate leaves. The plant can be cultivated in rocky, well-drained soil in a sunny location. Once established, Sturt's desert pea requires no supplementary watering.
Sturt's Desert Rose
A member of the hibiscus family, Sturt's desert rose (Gossypium sturtianum) is a flowering shrub native to much of Australia. The flower is the floral emblem of the Northern Territory, where it is particularly prominent. Sturt's desert rose can be found in the wild growing along dry creek beds and rocky desert slopes.The plant sports dark green leaves accented by silky, pink-tinged flowers, which are deep pink in the center. Sturt's desert rose is excellent as a specimen plant, and is best cultivated in areas with low to moderate rainfall. Although fairly compact, Sturt's desert rose will do well with light pruning. The showy flowers look better on the shrub than in a bouquet, as they close after a day or so.