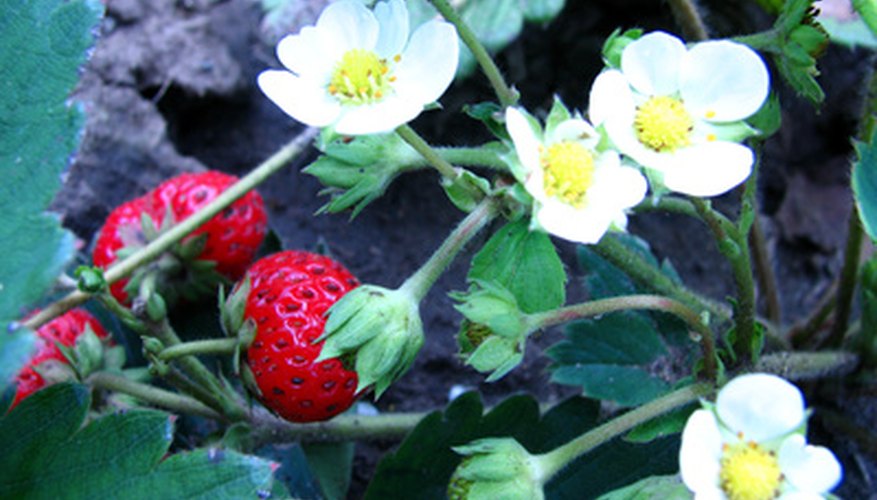 Strawberry plants are short-lived perennials, often producing berries for only three or four years before the plant needs replaced. These small berries provide a suitable fruit for home production, even if you don't have space for a traditional garden bed. Strawberries are well-suited to container culture and can also be grown in a hanging basket. If you have no place outside for strawberries, grow a small pot of these sweet fruits indoors in a sunny windowsill.
Planting Nursery Seedlings
Fill an 18-inch diameter pot or larger two-thirds full with a well-draining potting mix. Water the mix until the excess moisture just begins to drain from the bottom of the pot.
Create 1-inch tall mounds of soil in the pot, spacing the mounds approximately 6 inches apart. Make the mounds no wider than 2 to 3 inches.
Lift the strawberry plants from their nursery pots. Gently shake off the excess soil from the roots then spread the roots out with your fingers. Set the plants on top the mounds with the roots trailing down the sides.
Fill the pot with additional soil until the soil surface is just beneath the level of the plant's crown. The crown is where the stems emerge from the root system and it must sit just above the soil surface.
Water the pot from the top until the excess water drains from the bottom, collapsing any air pockets around the strawberry's roots. Add additional soil to the pot if necessary to maintain the same soil level as before watering.
Planting Seeds
Fill an 18-inch or larger pot to within 2 inches of the rim with a well-draining soil mix. Water the mix until the excess begins to drain from the bottom.
Poke your finger into the soil every 6 inches, creating 1/4-inch deep planting holes. Sow three strawberry seeds per planting hole.
Cover the top of the pot with a sheet of plastic wrap, which helps keep the soil moist during germination. Set the pot in a warm room and water the soil if the surface begins to dry before the seeds sprout.
Remove the plastic wrap as soon as the first sprouts begin to emerge from the soil. Move the pot to a sunny windowsill and water when the top 1 inch of soil begins to feel dry.
Thin the strawberry plants once most of the seeds have sprouted. Pinch off the smaller, weaker plants, leaving the stronger plants behind. Thin to a spacing of 6 inches between each plant.