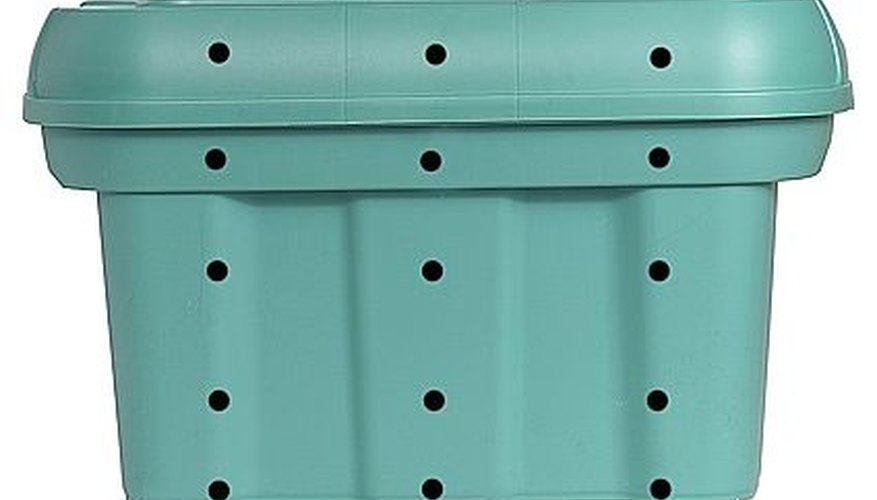 Garden composters are a great addition to any garden. By mixing yard and household organic waste in a compost bin, you can create your own nutrient rich soil to add to your garden in less than 2 weeks time. You will benefit from the amazing soil made by your homemade compost bins, and you'll be astounded at the plants you are able to grow! Good-quality compost costs money, so consider making your own composting bins at home.
Here's how to make simple garden composters in no time at all:
The first step to building a homemade compost bin is to buy your supplies. You will need a large storage bin which will act as the body of the composting bin itself. You can use any sort of container that you like. Rectangular shaped plastic bins that hold at least 50 gallons work great as garden composters. These bins have a lot of surface area on the bottom which allows more room for microorganisms to enter.
Drill holes throughout the sides and bottom of the compost bins to allow for aeration of the compost. These holes also let the microorganisms in so they can break down the compost. Some people remove the bottom completely from their garden composters to speed up the decomposition process by allowing worms to enter.
Find a place to put your compost bin. You don't want to leave garden composters too close to the home since they can sometimes emit strong smells.
Fill your garden composters with items such as plant debris, dry leaves, garden clippings, sawdust, newspaper, kitchen scraps, etc. You can add manure from animals that are vegetarians such as horses or cows. Don't add items to your composting bins such as meat, dairy, inorganic materials (i.e. aluminum foil, plastic), synthetic chemicals, diseased plants, colored paper etc.
Add water to your compost bins on a regular basis so it remains the consistency of a well wrung out sponge.
Stir the your garden composters a couple times a week and add more "stuff" as often as you like. Be sure not to overfill the bins however. You need room to mix and aerate.