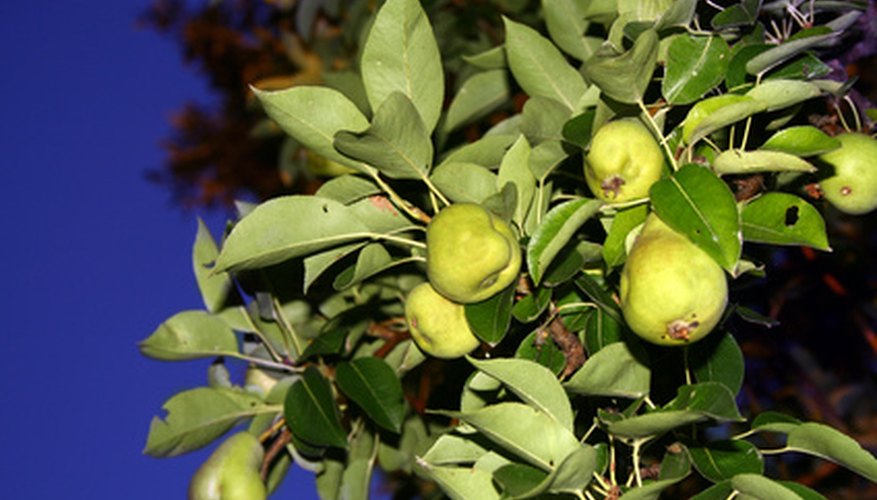 European and Chinese growers cultivated pears 3,000 years ago. Ancient writings detail their cultivation. Pears are members of the Rosaceae or rose family and the Pyrus genus, which includes about 22 different pear species grown in Africa, Europe and Asia. Totally, around 45 pear cultivars of Europe, Japan and China dominate the world market, with "Bartlett" being the most common in South Africa and worldwide.
African Pear Tree
The African pear tree (Dacryodes edulis) has a wide distribution on the African continent, growing from Sierra Leone to Angola along the Atlantic, as far inland as Uganda, and in northern Zimbabwe. Its other common names include butter fruit tree, bush butter tree and African plum tree. The African pear tree is highly adaptable, thriving from sea level to elevations of over 3,000 feet, and surviving in dry to monsoon conditions. This fast-growing tree attains heights of around 60 feet, with low branches and clustered flowers surrounded by bracts. Nectar from the flowers produces honey. The traditional term for the fruit is ellipsoid drupe, an accurate description of its shape. Potentially, an oil extract from the fruit will benefit the food and cosmetics industries in the future. Most of the fruit is for domestic consumption and harvested at different times of the year, depending on the area's weather conditions. The leaves have medical uses in the treatment of digestive, tooth and ear disorders, according to the Plant Resources of Africa (PROA) website. Practitioners apply the bark in the treatment of anaemia and dysentery. The primary use of the wood is as firewood. The African pear tree is a member of the Burseraceae family, and it is a popular shade tree.
Rosemarie Cultivar
In 2008, the South African company, Safpro, exported the first "Rosemarie" pears to Europe. Rosemarie is the first pear tree cultivar bred in South Africa. It is a fast-growing, medium-sized tree. It blooms earlier than the Bartlett and pollination is by pears that bloom during the same time period. It is a cross between Forelle and Bon Rouge (a strain of Red Bartlett). Besides exports of fresh fruit, the Rosemarie cultivar also produces fruit for canning and drying.
Cactus Pear Tree
Cactus pears, also called prickly pears (Opuntia ficus-indica species) arrived in South Africa from the Americas about 300 years ago. Today, varieties like Burbank, introduced in 1974, are central to fresh fruit production, including byproducts like jams and syrup. There are over 40 varieties of cactus pears. The most popular varieties are Morado with white fruit; Gymno Carpo with yellow-orange-colored fruit that blooms in December; the pinkish-red Algerian pear; and the greenish-white Skinners Court. Cactus pears do best with regular pruning and thinning of the branches, which enhances fruit production.