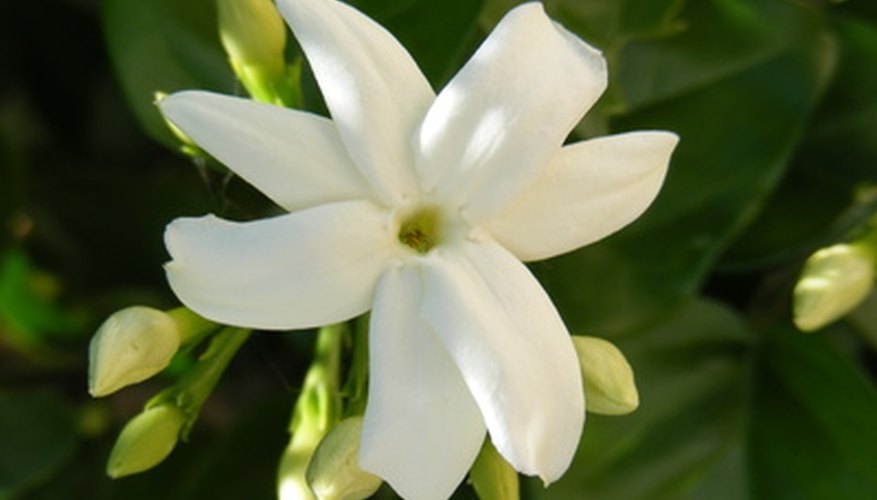 Jasmine is a genus of flowering perennials belonging to the olive family that are grown for their fragrant flowers and glossy, deep green leaves and vines. According to the USDA, there are more than eleven species of jasmine with varying colors, scent intensity and growth habit. Jasmine flower oil is an important commercial ingredient in high-quality perfumes, topical preparations and makeup as well as in consumables such as tea and homeopathic treatments, according to Purdue University. Jasmine is a popular garden ornamental in temperate and tropical climates or a seasonal indoor plant in cooler regions.
Scour garden centers in spring and summer for nursery containers of mature jasmine plants or flats of young, small plants. While the selection may be limited to one or a few cultivars, quality nurseries or garden centers are a good place to find common ornamental jasmine plants. Nurseries in temperate and warm climates may sell the plants year-round, while those in colder climates will sell them as outdoor and indoor plants seasonally.
Use a quality online or catalog nursery to locate specific species and cultivars by color, leaf characteristics, scent, and growth rate and size. Quality generalist nurseries will typically stock several varieties and tend to have a better selection of hard-to-find cultivars and indoor plants that can be shipped widely, even in winter.
Source a catalog or online nursery specializing in tropical plants for the largest selection of jasmine plants. When seeking cultivars for scented oil production, rare colorations and a wider variety of available plants sizes and prices, specialist retailers will better be able to help get you precisely what you want. They often sell plants in collections or in bulk, which is helpful if large quantities of plants are needed.