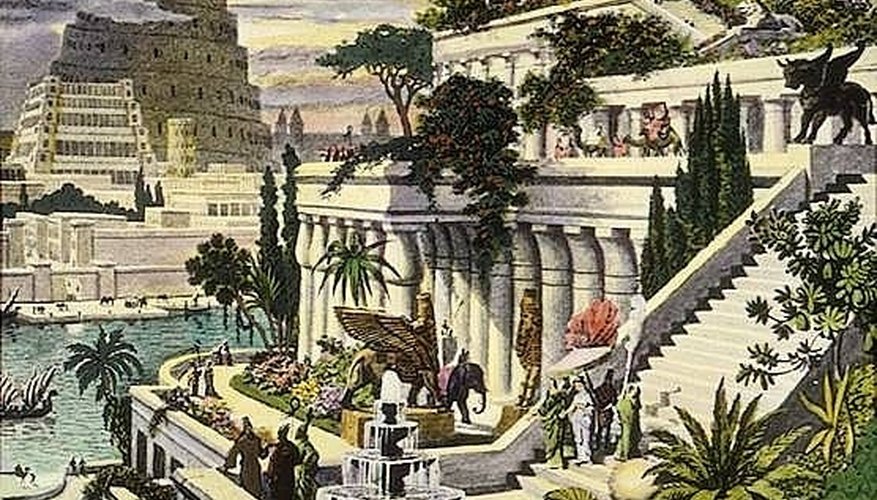 King Nebuchadnezzar built the fabled Hanging Gardens of Babylon for his wife, who was homesick for her lush green homeland.
The hanging gardens did not actually hang, but were built in a series of terraces and levels supported by stone columns. Building the gardens was no small feat, especially in the days of no technology.
All of the work was done by hand, most likely by slaves. It is said that the hanging gardens incorporated fountains and many large trees. Hollow pillars were used to accommodate the roots of the large trees.
Because Babylon was located in the desert, constant irrigation would have been needed as well. It is mind-boggling to imagine the sheer volume of water that would have been raised from the Euphrates River to water the Hanging Gardens of Babylon.
In today's society, the trend toward urban gardening has prompted more and more people to create their own Hanging Gardens of Babylon using whatever space they have available.
The first thing to do is assess your available space. Whether you have a large yard, a small yard or an apartment balcony will determine the size and type of hanging gardens you will be able to create. In a large yard, the sky is the limit because you can build terraces for your gardens. In a smaller yard the gardens can consist of smaller terraces and large containers, as well as hanging planters. A balcony garden will consist strictly of containers, both hanging and not.
Terraces are a series of steps or levels that are usually supported by some sort of retaining wall made from bricks, stones or logs. They are ideal for yards that are on a hillside. It's an excellent way to make use of space that might otherwise be incapable of supporting a garden.
Building a large terraced garden can be an enormous landscaping job that may require you to enlist the help of a professional. You must ensure that it is excavated properly and doesn't collapse under the weight of the soil. On a smaller scale, terraced gardens can be built by nearly anyone, for relatively little expense. It is an effective way to utilize all of the available space in a small yard. Watering terraces is much easier than it was in the days of Babylon because a sprinkler placed at the top can water the entire garden.
Large containers and urns can hold decorative plants as well as vegetables, and are available in many attractive designs. Grecian-style urns with pedestals can add an ancient appearance to your gardens that is reminiscent of the original Hanging Gardens of Babylon. Concrete or plastic columns can be used to display trailing plants that spill over the tops of containers.
When working with a small space, you need to make use of all available space. Hanging planters can be suspended from eaves, tree branches, and patio railings. Even wall space can be used to hang specially designed planter bags that are useful for flowering plants as well as fruit-bearing plants such as strawberries.
You can make your Hanging Gardens of Babylon both attractive and functional by combining colorful flowering plants with vegetables and fruits. The type of fruit that you can produce depends on the region you live in. Warmer climates offer the opportunity to grow a multitude of tropical fruits that cooler regions would not allow. In areas with a shorter growing season, a beautiful and productive garden can still be grown.
Fruiting plants that do well in containers include tomatoes, cucumbers, peppers, beans, peas and strawberries. All of these plants can be grown in standard hanging planters, grow bags or upside-down planters.
Potatoes can also be grown in large containers such as washtubs or half-barrels. Peas and beans can be grown in a hanging planter and hung up so that they trail along a wall or arbor.
Upside-down planters can be easily made from 5-gallon pails or ordinary hanging baskets. Simply make a hole in the bottom of the container and insert the plant with the roots facing upward and the plant hanging down. Plants grown upside down have many benefits. They are safe from crawling garden pests and do not need to be staked up.
If hung at eye level, the fruit is easy to reach. You do not need much space to grow a large and productive vegetable garden.
The Hanging Gardens of Babylon may have been one of the first gardens to incorporate man-made structures and artificial watering methods. Throughout the centuries, many cultures have adopted these practices to create beautiful and productive gardens. By using some of these methods, you too can re-create the Hanging Gardens of Babylon in your own outdoor space.
Resources