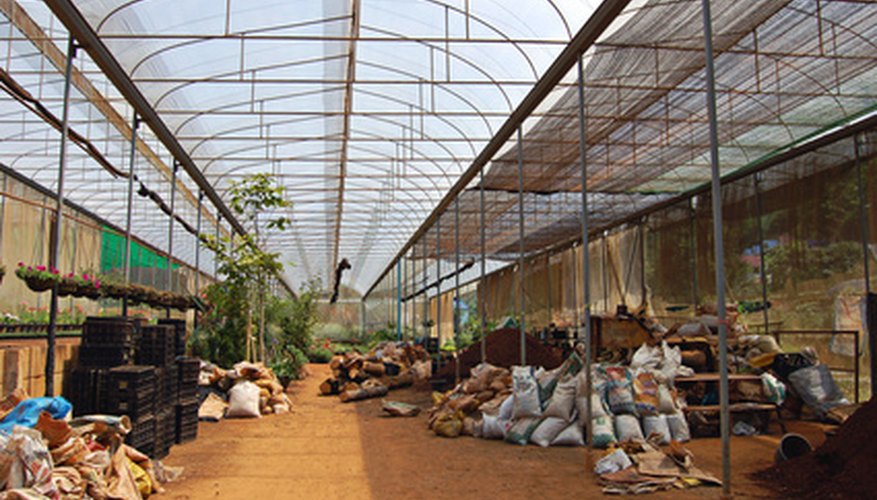 Whether you purchase seedlings or produce them from your own seed-starting, use a greenhouse to grow seedlings into strong, healthy plants. Seedlings grown in a greenhouse as opposed to inside a home receive direct light and humidity—all factors that contribute to healthy plants. Seedlings benefit, too, from a greenhouse's controlled temperature settings which includes the options to turn the heat up during the day and turn it down at night to mimic outdoor growing conditions.
Place seedling cells, from seeds started in cell flats several weeks before, in the greenhouse.
Turn the heat up first thing in the morning to maintain a temperature in the 70s. Around sunset, turn the temperature down to the 50s. Many greenhouse thermostats include a setting that either changes the temperature based on a preset time or changes the temperature based on when it detects sunrise and sunset.
Water the soil daily with a spray bottle set on "mist." Only water when the soil appears dry.
Repot when seedlings begin to outgrow their containers if they are not ready to be planted outdoors. Select a container just slightly larger than the cell. Fill it halfway with soil. Remove the seedling from the cell and place it on top of the soil in the new container. Pour more seed-starting mix around the sides of the seedling. Pack the mix around the roots and base of the seedling.
Hang grow lights over the seedlings if they appear spindly (or long), thin and weak. Spindly seedlings grow long to reach for the sun or light in hopes of increasing their strength. Keep the lights about 2 inches away from the top of the seedlings. Move the light up as the seedlings grow. Keep grow lights on 18 hours per day.