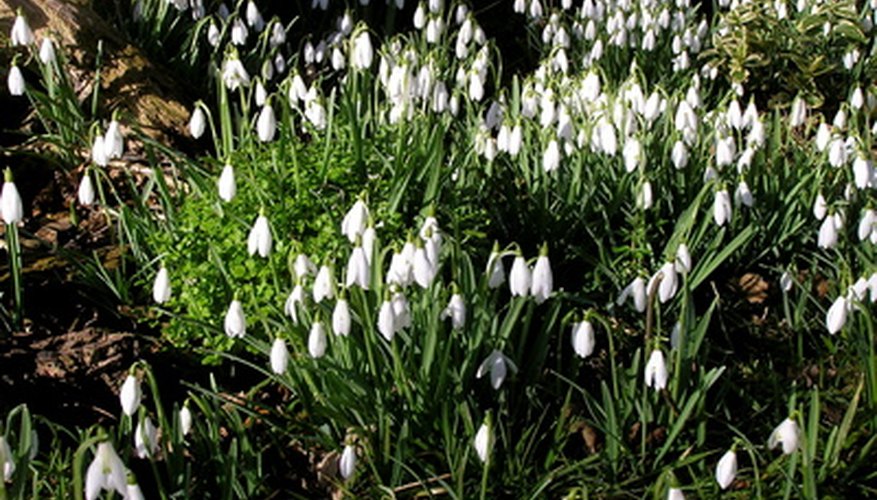 For many gardeners, three seasons of bloom simply aren't enough. Finding even a few flowers to brighten winter landscapes with color and form can also boost weary winter spirits, says Oregon State University Extension Service's Carol Savonen. From unassuming little bulbs to showy ornamental shrubs and trees, winter flowers come in all shapes and sizes. Each of them, however, delivers the welcome message that spring is on the way.
Snowdrop
Snowdrop (Galanthus elwesii) emerges from the earth--often through layers of snow--in February or March. This delicate, 6-inch to 1-foot high plant is hardy in USDA zones 4 through 7. Its leafless stem rises above narrow, 4-inch green leaves to display a solitary, 2-inch bell-shaped white flower. Leaves continue to grow after the blooms die.
Snowdrop is most impressive when groups of it naturalize beneath deciduous trees on lawns or along woodland areas, according to the Missouri Botanical Garden. Small walkway and border edge plantings are less dramatic reminders of approaching spring. Planted in fall--3 inches deep and 3 to 4 inches apart--the bulbs flower the following spring.
Winter Aconite
Winter aconite (Eranthis hyemalis), a buttercup family tuber, is hardy to USDA zone 3. Its cheery, yellow flowers arrive even before crocus bloom in February and March. Their green, lobed foliage arrives after the flowers. Growing just 3 to 6 inches high and wide, winter aconite brightens the areas around leafless trees or shrubs. The tubers need four seasons of consistent moisture and well-drained, fertile soil, according to the Missouri Botanical Garden. They perform best where they get full sun while flowering, with increasing amounts of shade before going dormant at the end of spring.
Winter Heath
Winter heath (Erica carnea) is a 6-inch to 1-foot high evergreen shrub native to the European Alps. Its reclining stems spread slowly to exceed 20 inches. In the proper location, winter heath will form an eye-catching, winter flowering ground cover, according to the Missouri Botanical Garden. Hardy to USDA zone 5, the "Springwood Pink" winter heath cultivar blooms between January and March. Its tiny, pink flowers appear along one side of 3-inch stems above the plant's needlelike, bronze-tinged green leaves. The evergreen plants provide garden interest even when not flowering. Winter heath does best in well-drained, sandy peat-enriched loam and full sun. It appreciates afternoon shade where summers are hot, according to the Missouri Botanical Garden.