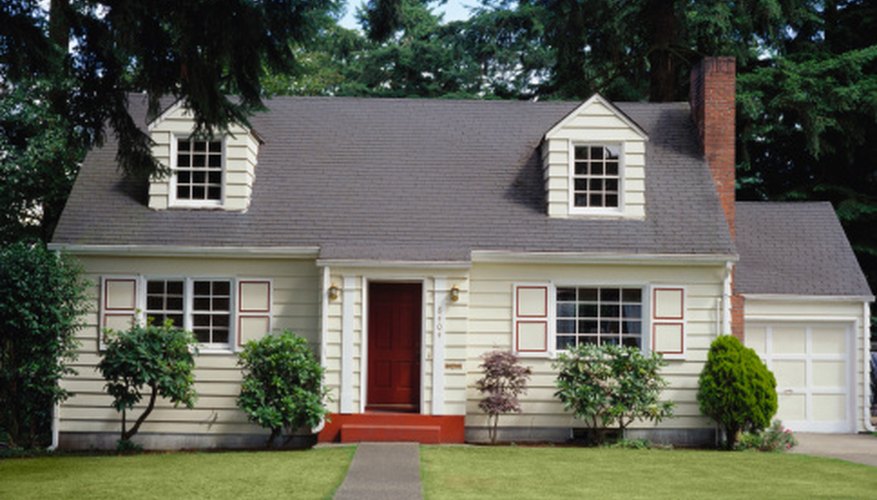 Lending a smooth walking surface to those who traverse it, concrete is an optimal choice for exterior walkways. Durable and easy to maintain, concrete requires little of your time and effort to keep it looking nice. Since this is the first thing people see when they come to your home, it may be important to give the walkway a thorough cleanup as needed.
Sweep the walkway with a push broom or other coarse-bristled broom to remove dirt and debris from the walkway's surface.
Tackle rust stains by covering them with white vinegar and leaving it to soak for 15 to 20 minutes before scrubbing with a coarse-bristled brush. Rinse the area with the hose and repeat until the stain is gone.
Scrape oil and grease spots away with a plastic or metal scraper. If the stain persists, cover it with something absorbent such as kitty litter or sawdust for 12 to 24 hours before removing it and scrubbing the area with hot soapy water. A grease-cutting liquid dish soap is ideal for this task.
Wash away built-up dirt and grime on your walkway with powdered dishwashing detergent. Sprinkle the detergent over the walkway before pouring hot water over it. Scrub the cement with a coarse-bristled brush to lift dirt stains. Rinse the walkway with clean water and leave it to dry.
Things You Will Need
Push broom

White vinegar

Coarse-bristled brush

Metal or plastic scraper

Kitty litter

Grease-cutting dish soap

Powdered dishwashing detergent
Tips
Clean up spills on your walkway as soon as you see them. Concrete is porous and can stain easily.

Read and follow the manufacturers' instructions closely before using commercial products to clean concrete.
Warning
Do not use wire brushes on the walkway as this can potentially damage older concrete.