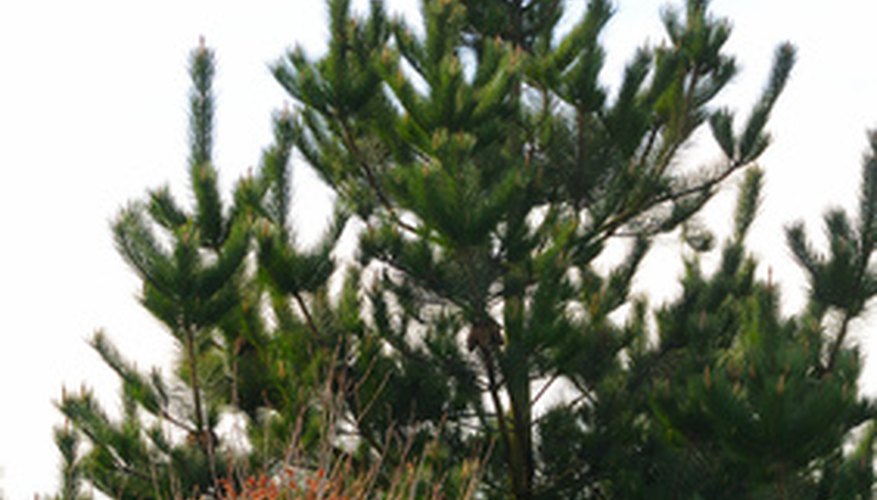 Green tree with red tree image by Lee Mann from Fotolia.com
The idea behind tree farming includes creating a sustainable resource that continues to produce forest products. Tree farming includes practicing land stewardship by focusing on reforestation, management, growth, nurturing and harvesting of trees, according to the American Tree Farm System. Just as important, tree farming helps conserve soil, air and water quality as well as wildlife and fish habitat.
History
People began using the phrase "tree farming" in the 1940s, according to the American Tree Farm System. The first tree farm appeared in 1941 in Washington State. California's tree farm program also began in 1941, and now includes almost 600 tree farms protecting 3.5 million acres across the state. Tree farms started appearing once people noticed that private forests were being cut down but no new trees were planted to replace them.
Characteristics
Tree farms may contain a wide variety of trees and not just the Christmas trees many people associate with tree farms. Instead, tree farms contain a variety of habitats meant to appeal to wildlife and birds as well as a number of stages of forest regeneration. Some tree farms contain seedlings, while others hold large, mature trees. Most tree farms contain a mix of new and older trees.
Benefits
In addition to helping to sustain forests, tree farming provides valuable habitat for wildlife and birds. The trees provide important resources for nesting, shelter and food. Tree farming protects important watersheds that fish and other wildlife rely on. Mature trees ready for harvest provide valuable wood for construction and manufacturing. One of the main products made from the trees growing on tree farms includes paper, according to TAPPI, the Technical Association for the Worldwide Pulp, Paper and Converting Industry. After the trees get harvested for manufacturing into paper, more trees get planted to replace those removed. Some tree farmers enjoy collecting morels, or mushrooms, that grow at the bases of the trees. The trees provide a valuable resource when it comes to exchanging carbon dioxide for oxygen, helping to improve the environment and clean the air from pollution.
Certification
A variety of programs offer certification to tree farms. Most states offer various programs and information to help people organize and manage a tree farm. For instance, the Michigan Tree Farm organization focuses on helping tree farmers grow renewable forest resources while protecting environmental benefits. The American Tree Farm System organization also offers certification.
Planning
Development of a sustainable forest, or tree farm, requires careful planning. Each tree farm needs to look at its objectives and goals for the trees and the resources available on the land, and create a plan to manage those resources. Some groups, such as the American Tree Farm System, offer templates to help people create their management plans. Each state also offers a variety of resources to help tree farms become sustainable.
References
Resources