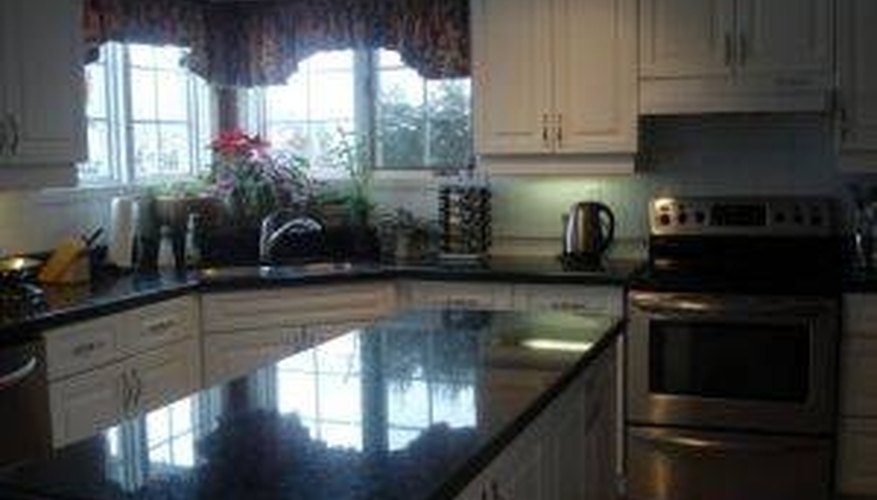 Concrete countertops are the newest trend in kitchen remodels. Their popularity is growing at such a rapid pace due to fact that the countertops are extremely durable, waterproof and stain resistant. They are also completely customizable and because no two pieces of concrete are the same, the countertop will be one of a kind. The process is not difficult but does take some time and there are some safety concerns. Protective clothing, eyewear and a respirator are always recommended.
Tape a plastic protective covering to the backsplash and cabinets. Put on protective clothing, eyewear and a respirator. Make sure you're wearing gloves.
Clean the countertop with a non-acid detergent. A citrus cleaner works well. If the countertop is new and nothing has been spilled or dropped on it, then brushing it off with a scrub brush should be adequate.
Apply the stain. Use a brush and saturate the concrete but try not to let the stain puddle. Completely cover countertop, trying not to keep going over areas with the brush or you may leave brush marks. Allow the stain to fully dry overnight.
Wash off the countertop. The stain will leave a residue on the counter that can be removed with a a sponge or rag and warm water. Then neutralize the stain with a mixture of 2 1/2 gallons of water to 1/2 cup of ammonia. Wipe the counter down and then wipe again with plain warm water. Allow the counter to completely dry. It is important that the counter be dry and free of any leftover residue before moving on to the next step. Drying time will differ in various climates and conditions.
Polish the countertop. Using the wet polisher, start with the 800 grit pad and go over the countertop. Repeat with a 1,000 grit pad and then with a 1,500 grit pad. This will give you a beautiful smooth finish.
Apply sealer made for countertops. Place the sealer in a paint pan and use a paint roller to apply the sealer generously. Do at least two coats and make sure the entire surface is covered. The sealer needs to cure for at least a full day and possibly two before putting on the wax.
Apply cement countertop wax. Use a sheepskin buffing pad and apply the wax to the countertop as you would to your car or surfboard. Rub in until you get the beautiful shine you want.
Things You Will Need
Concrete stain

Concrete sealer for countertops

Concrete wax or polish for countertops

Tape

Plastic sheeting

Bucket

Paint brush made for use with acid

Rags

Sheepskin buffing pad

Non-acid detergent

Scrub brush

Paint pan

Paint roller

Wet polisher with polishing pads
Resources