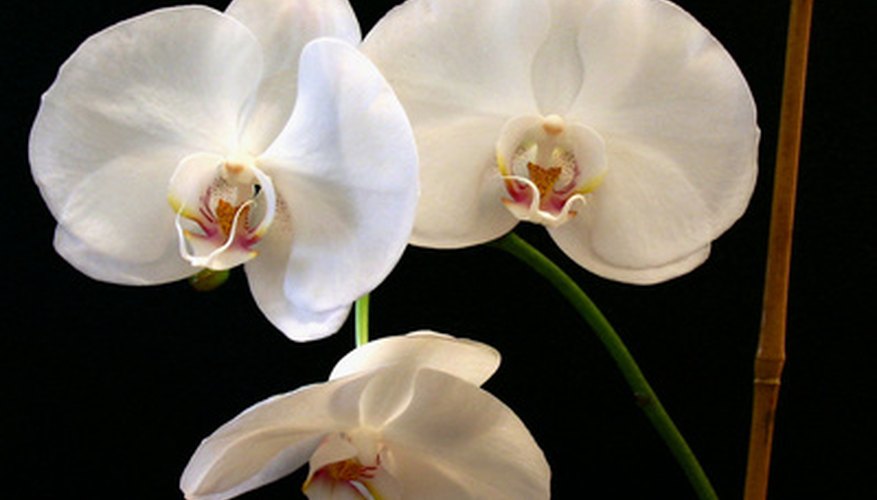 Orchid growers often enjoy the beauty of cut orchids in a flower arrangement. With their tall spires and stately blooms, orchids add elegant beauty and color to a flower arrangement. Prepare fresh orchids carefully to ensure their continued beauty in a bouquet and then arrange orchids for a striking and long-lasting arrangement. Simplicity is the key to a beautiful orchid bouquet--let the distinctive orchid blooms be the star of your fresh arrangement.
Cut the orchid stems from your plants early in the day, choosing blossoms that are completely open. If you are using purchased orchids, select the most perfectly open orchids.
Fill the bucket halfway with warm water.
Run cool water into a sink and hold each orchid stem beneath the running water. Cut each orchid stem at a 45-degree angle beneath the stream of water and remove all leaves from the lower parts of the stems so no leaves will be beneath the surface of the water. Place the cut orchids into the bucket of warm water immediately.
Place the bucket of orchids in a location with a temperature approximately 50 F for eight hours to prepare the cut orchids for the arrangement.
Fill the vase with warm water and add a packet of cut flower food. Stir the water to dissolve the flower food.
Dry the outer top edge of the vase with a towel. Use the florist tape to create a grid over the vase opening to assist you in arranging the orchids in the vase. Make the squares of the grid 3/8 inch to 1/2 inch wide.
Transfer the orchids from the bucket to the vase. Place the tallest orchid stems in the center of the vase and surround the tall orchids with shorter orchids. Allow one or two orchid stems to branch out from the arrangement in a pleasing arc to give your arrangement character and definition.
Set the orchid arrangement in a cool location out of direct sunshine.
Give the orchids fresh water and flower food after three days, and cut the orchid stems again under running water.