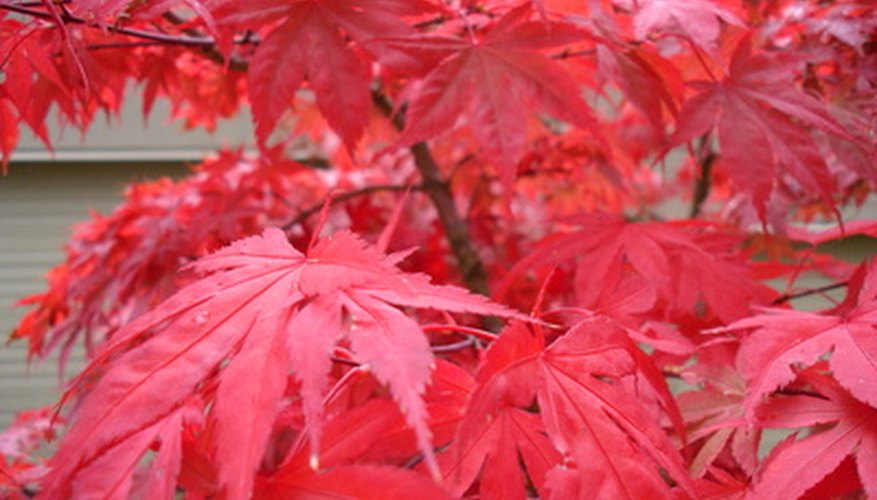 Red Dragon Japanese maple trees are a newer hybrid of shrub Japanese maple that was developed in New Zealand. The tree grows approximately 1 foot per year until it attains a mature height of 10 to 12 feet. Red Dragon Japanese maple trees produce cherry red foliage that grows burgundy throughout the summer before turning bright red in fall. If Red Dragon Japanese maple trees are pruned and trained while they are young, the tree needs little pruning throughout the rest of its lifetime. Prune Red Dragon Japanese maple trees in early spring before the tree produces leaves. At this point before the leaves emerge you can see the branch structure and overall shape of the tree and avoid sunscald that could damage the tree from summer pruning.
Prepare a solution of 10 percent bleach by mixing 1 part bleach and 9 parts water. Soak a clean cloth with the bleach solution. Wipe the blades of your pruning tools with the solution to sterilize them before and after pruning each tree and after removing any diseased branches to stop the spread of disease.
Select the pruning tool for each branch you remove based on the size of the branch. Choose pruning shears for twigs that are smaller than the size of a pencil. Branch loppers are suited to growth smaller than 1 ½ inches. Use a hand saw for larger branches.
Pinch or saw away branches at a point just outside where the branch you are removing joins a larger branch. Your pruning cut should begin just outside of the growth ring in the crotch of the two branches. It should slope downward and away from the tree at a 45-degree angle. For larger branches that require a hand saw, you must make three cuts to avoid stripping the bark. The first cut should begin 3 inches from the crotch of the tree and should extend upward one-third of the way into the branch. The second cut should begin at the top of the branch, 4 inches further down the tree and should extend completely through the branch to remove most of the weight of the limb. Remove the third branch with a cut that begins outside of the growth ridge and extends downward and away from the tree at a 45-degree angle.
Remove dead branches, branches that have weak forks of less than 90 degrees, branches that crisscross, rub one another or grow across the center of a tree's canopy, deformed limbs, dead wood and branches that grow too closely to one another.
Remove twiggy growth and branches that grow close to the trunk to expose the structure of the tree. Separate branches into overlapping layers that don't touch one another. You should be able to see into the tree through each layer.