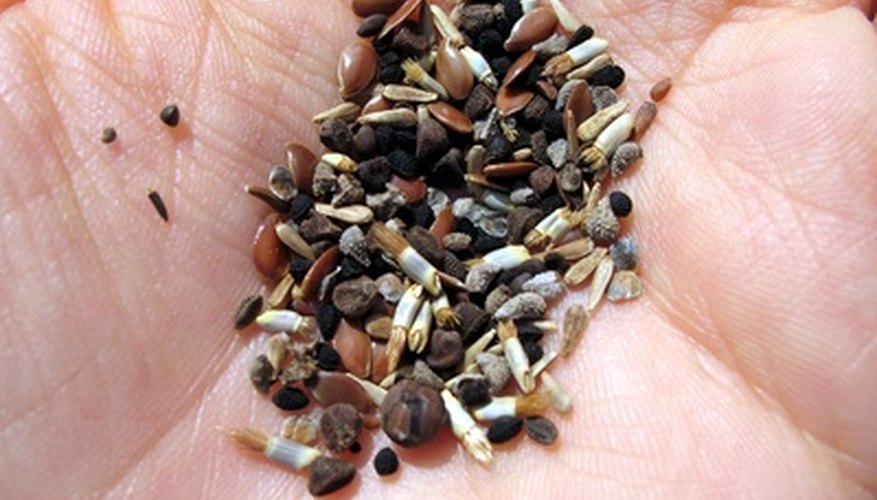 Some flower and vegetable seeds are large enough to enable simple sowing in an outdoor growing area. Other varieties have seeds so tiny that planting them requires a special planting technique. To control the spacing and depth of these seeds, plant tiny seeds with the help of homemade seed tape, which enables you to space seeds properly according to planting instructions without losing track of them.
Tear off one sheet of paper towel and place it onto a flat work surface. Cut 2-inch-wide strips of paper towels with the scissors.
Lay out each paper towel strip separately on the work surface and moisten the strips lightly with the spray bottle.
Select one seed variety to begin adding to the paper towel seed tape. Consult the seed packet for proper spacing, and place one seed along the center of each paper towel strip at the recommended spacing.
Fold the bottom long edge up 1/3 of the way over the seeds and crease this fold. Fold the top long edge down 1/3 of the way over the seeds and crease this fold.
Make as many lengths of seed tape as you need to plant the number of seeds you desire.
Place these seed tape lengths into the soil at the recommended depth for the seed. Tiny seeds generally need planting under 1/8-inch to 1/4-inch of soil. Cover the seed tape with soil and water evenly to saturate the soil after planting.