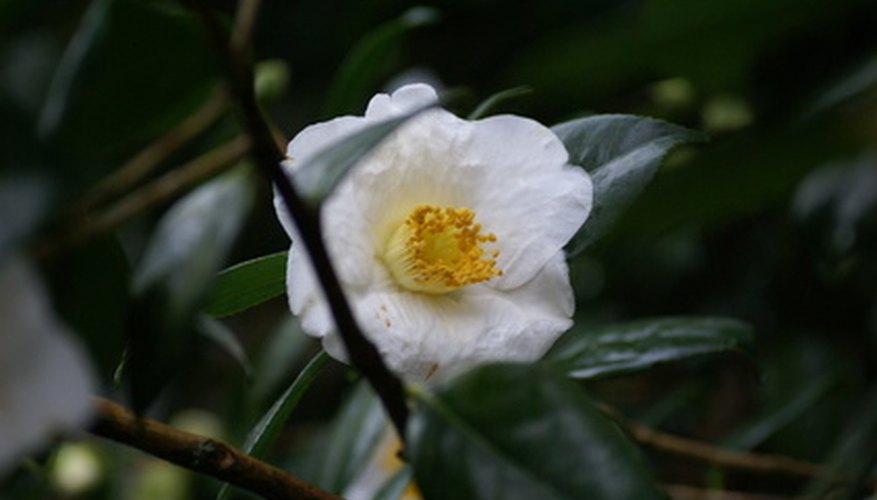 Camellia plants exist and flourish around the world, but the Camellia sasanqua is the variety that grows best in the eastern third of Texas. It can be successfully grown throughout the state with a little extra care, according to Texas A & M University. The state's acidic soil meets the camellia's requirements. The Camellia sasanqua does well when planted as a hedge or ornamental specimen in the area. Plant the camellia in the late fall or early spring in Texas for best results.
Choose a location with sandy soil that contains organic material. The camellia prefers partial shade to full sunlight. The soil should have a pH level of 6.0 to 6.5, which is common in most areas of Texas.
Dig a hole that is twice as large as the plant's root system. Plant the camellia at the same depth as it was planted in its nursery container.
Add aged manure and peat moss to the planting hole and mix with the soil. The soil should feel crumbly to the touch.
Apply 2 to 3 inches of mulch such as straw, leaf debris or bark chips around the base of the camellia. The mulch will keep the soil moist and cool the root system during the hot Texas summer days.
Water the camellia regularly to keep the soil moist. Summertime in Texas can be exceedingly hot, so adequate water is required to keep the camellia plant alive.
Fertilize the camellia each spring using a general purpose fertilizer such as 12-12-12 or 16-16-16. Apply according to the directions on the label.