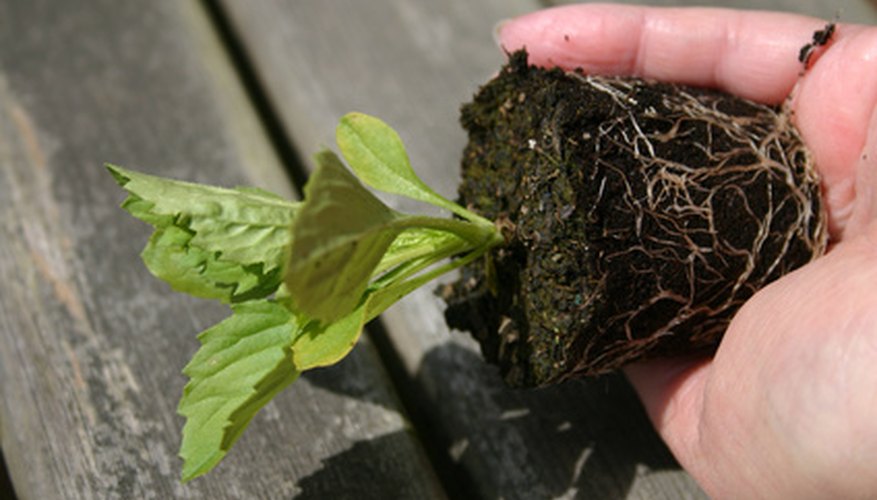 A soil block is a method for growing seedlings without plastic plug flats. A metal device is used to form a mix into soil blocks, cubes ¾ inch on all sides with a dimple on top to accept a seed or two, or larger cubes of 2 and 4 inches. These cubes serve as both a container and soil, and the air serves as a natural pruner to the seedling's roots. Manufacturers claim soil blocks minimize transplant shock, as the seedling's roots are less disturbed than when removed from a plug flat. Adding worm castings to the soil blocker mix promotes healthy growth for plants.
Staple the mesh to a rectangle made of scrap wood. Rub the peat moss and worm compost through the screen to remove sticks and incompletely decomposed organic material.
Mix four buckets of screened peat; one bucket of screened worm compost, a quarter bucket of colloidal phosphate--sold under brand names including Calphos--and a quarter bucket of greensand, a type of sandstone.
Moisten the mix thoroughly by using 1 part warm water to 3 parts mix. Stir until the mix acquires the consistency of soft putty. Check if a small amount of water oozes through openings in the blocker as you press the blocks together. Test to ensure that the individual soil blocks cling to the blocker without falling out prematurely.
Arrange the mix into a mound 1½ times deeper than the height of the soil blocker. Push the soil blocker into the mix until it hits the bottom of the tray. Twist the device a quarter turn. Lift it slightly. Push down the handle of the blocker just above the plant tray to release the blocks.
Rinse the blocker in warm water and make your next set of blocks