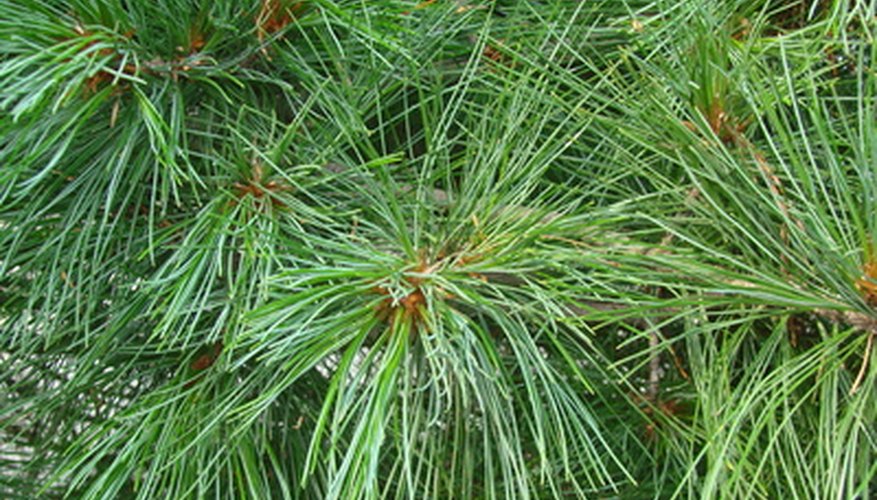 Pine needles do not have to be discarded when they fall from a pine tree. Collect them and use as an organic mulch. According to Ohio State University, pine needles help keep soil acidic with a pH of less than 7. Pine needle mulches help plants retain water, and keep weeds at a minimum. Pine needles can also create a ground covering for plants that will keep them warm during the cold winter months.
Put on a pair of garden gloves to protect your hands. Pine needles can be sharp, and they may poke you if you are not covered.
Collect your fallen pine needles and keep them in a trash can with a tight lid. You can store the pine needles in the trash can until the trash can is full, or until you have enough to start mulching.
Remove any weeds from the area you are about to mulch. It is best to get rid of any current weeds, and then use the mulch to keep new weeds from emerging.
Spread a 2-inch layer of pine needles around your trees, shrubs, or plants. Make sure the pine needles are not resting directly on the stems of any plants. The stems need to be able to get air so that they do not become moldy.
Add more pine needles as the organic mulch decomposes.
Things You Will Need
Garden gloves

Pine needles
Tip
Once the green pine needles fall off of the tree, they will turn yellowish-brown. This is normal.
Warning
Consider the soil requirements of your specific plants. Some do better in alkaline soil, but not in acidic soil. Some examples include oriental arborvitae, thyme, and butterfly blue. You would not want to add pine needle mulch to these types of plants.