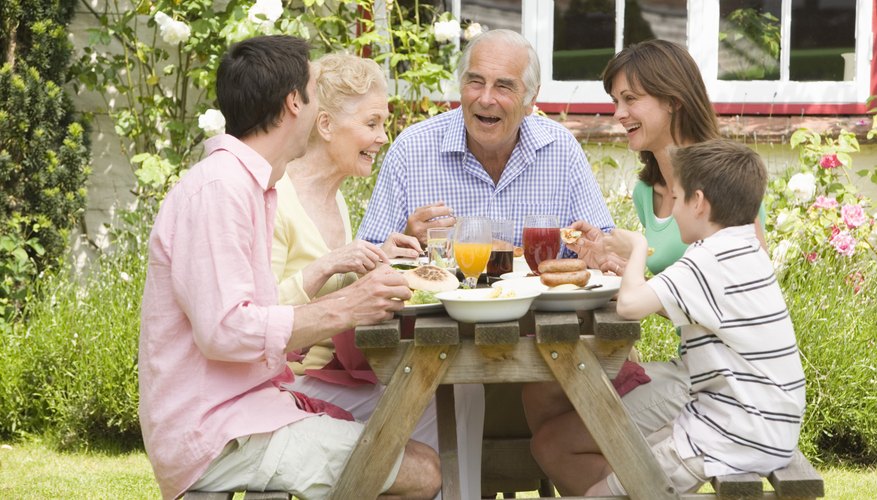 Designing the perfect garden isn't all about landscaping and putting plants in the ground. Furniture such as a garden table will help you enjoy your garden comfortably and occasionally use it for entertaining, too. Instead of heading to the hardware store for the same table your neighbor has, come up with an idea that suits the individual style of your garden.
Living Herb Bar
If you host a lot of food-based gatherings or cook outside often, then a living herb bar could be perfect for your garden. You can build or modify a table to have a sunken planting box running directly down its middle. Alternatively, you can make an entire one-half of the table a planting box. Either way, fill the planting box with soil, and grow your favorite herbs in it. When you eat or prepare food at the table, you can reach out and harvest fresh herbs to use as seasonings. If you're not interested in herbs, try a row of flowering plants or grass down the table's center.
Living Shadowbox
A shadowbox table with a glass top allows you to grow moss, ground cover or any other low-lying plants that will thrive in high heat directly in the table. You can modify an existing glass-top table by building a sunken box beneath it so the top rests over the planting space. Alternatively, build a shadowbox table from scratch and use an old window with hinges as its top. The hinges let you open the table's top to water the plants and allow fresh air into their miniature greenhouse. When the top is closed, you can dine, prepare food or do gardening work directly over your miniature garden. You can even make a miniature replica of your garden or a cute landscape with paths, fairy houses and stones in the shadowbox.
Fountain Accent
A small fountain is a peaceful addition to a garden table and serves as a conversation piece. Either modify an existing table to have a recessed box in the center large enough to hold a small fountain or build a new table entirely for that purpose. Placing river rocks around the fountain portion of the table creates a smooth transition and makes all the table's elements look like one piece.
Chalkboard Option
If your garden table will be used for everything from kids' crafts and potting plants to entertaining family, then consider a classic picnic table with a twist. Either build or buy a simple picnic table, and then purchase exterior chalkboard paint to coat it. After the paint is dry, the picnic table will function as a large chalkboard that you can draw or write on and then wipe clean later. This technique allows you to draw up a quick menu for a cookout or plan your guests' seating order by writing their names directly on the table.
Potter's Equipment
Perhaps you just want a table for dirty garden work. Then a potter's table may work best. If you can't find a table that you can modify to suit your needs, make a potter's table from disassembled wooden pallets. A potter's table often has a center hole above a soil collection bin into which you can brush excess soil. The table should have a storage area for holding pots, buckets, soil, seeds and other gardening items. In addition, a rack for holding hand tools on the table's back makes organization convenient.
Fast Repurpose
If you're on a budget and want to make a quick garden table, shop at thrift stores or yard sales for a wooden table that's the right size. You can sand off its existing stain or paint then apply your own outdoor stain and outdoor sealant. This is a weekend project that will have your garden looking complete in no time.