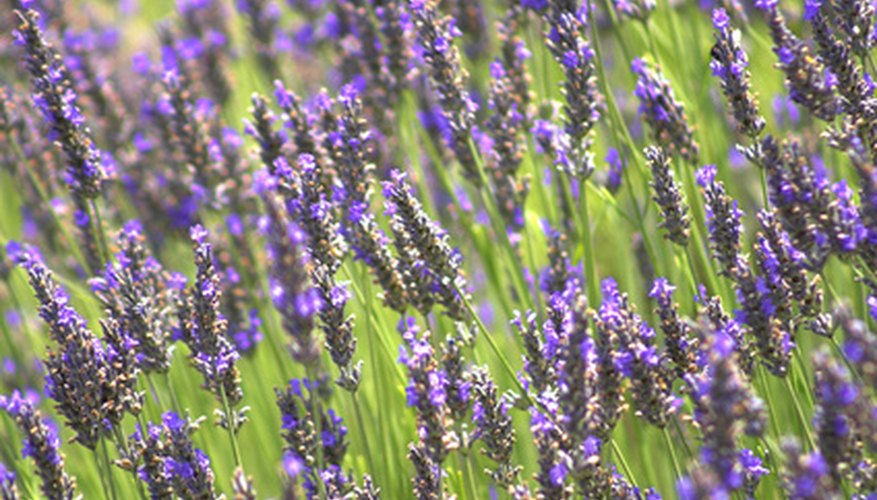 Essential oils are thought to provide relief from all kinds of discomfort from pain to stress to insomnia. Lavender oil is no exception and large facilities distill it to make perfumes and cosmetics. Drawing out the oil from lavender by distillation in the home, however, requires far too many flowers to be practical for such a small amount of finished product. There is an alternative way to extract the oil by infusing the lavender with existing oil. This method requires few flowers.
Spread a handful of lavender stems with the flowers and leaves still attached on a paper plate. Set a second paper plate over the first to cover the lavender. Push down on the plate to lightly crush the lavender.
Lift the top plate off and set aside. Fill a glass jar with as much crushed lavender that can fit in the jar but still leaves the lavender enough room to move.
Pour high quality oil, such as olive or almond oil, into the jar until all of the lavender is covered. Close the lid on the jar and place it in a cabinet out of the sun.
Shake the jar gently every day for a month to jostle the lavender inside the oil. This allows the essential oils of the lavender to thoroughly leach into the olive or almond oil.
Set a small mesh strainer over a measuring cup after the month is over. Pour the contents into the strainer.
Pour the now fragrant lavender oil into a clean glass jar or multiple small jars. Use the oil right away or store with the lid on tight until you need it.