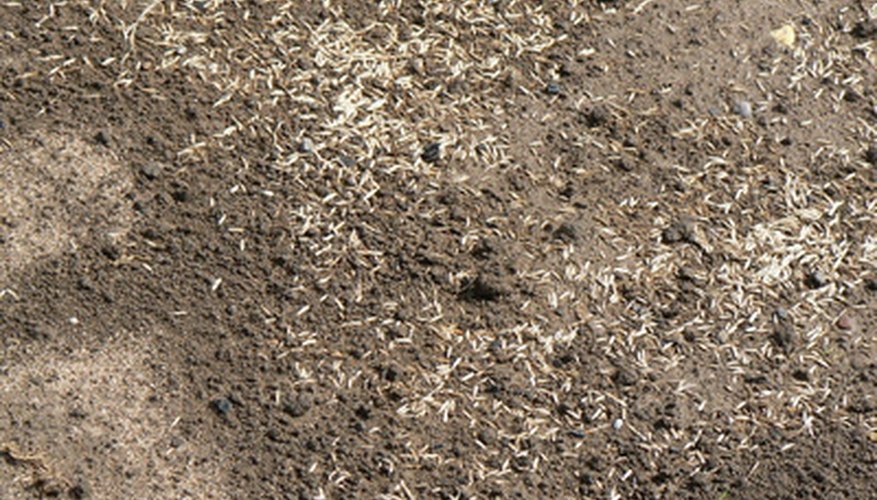 A healthy lawn is one of the best ways to landscape your yard to provide curb appeal. Patchy grass can look unhealthy and make your lawn a host to many weeds. Planting grass seed is an inexpensive alternative to laying sod. Grass seed is used to either seed or re-seed an existing to lawn. It is simple to install and can be done by nearly anyone in one afternoon. Grass seed requires only minor care once it is in place.
Choose a top quality of grass seed for best results. Look for a grass that has a National Turf Evaluation Program (NTEP) rating. This ensures that the grass seed has been bred for disease, drought and insect tolerance, and will have a superior green color.
Till the top 2 to 3 inches of soil using a tiller. You can rent one from any equipment place or purchase one from your local home improvement store. Add 2 inches of organic compost and till that into the soil, this will provide the grass with the necessary amounts of nitrogen.
Remove any sticks or rocks and any other debris from the area you will be seeding. Use a rake to break apart any large particles and to smooth over any low or high areas to prevent areas of standing water.
Spread the seed evenly by hand in small areas. Use a mechanical spreader or lawn seeder to spread seeds in large areas. There should be approximately 16 seeds per square inch of soil, according to online resource All About Lawns. If you apply too many seeds they will fight one another for nutrients in the soil. If you spread too few seeds the lawn will look weak and patchy and be susceptible to weeds.
Drag the area with a length of chain-link fence or with a rake to lightly cover the seeds with no more than 1/4 an inch of soil.
Use a lawn roller to pack down the soil and the seeds to prevent the seeds from blowing away. This will also ensure that you grass is even. Run the roller over the yard from north to south and then east to west. Cover your footprints by pulling the roller backwards behind you as you step.
Water the entire area with at least an inch of water every other day with a sprinkler on light mist until the grass establishes. Do not walk on the grass for at least 2 weeks.