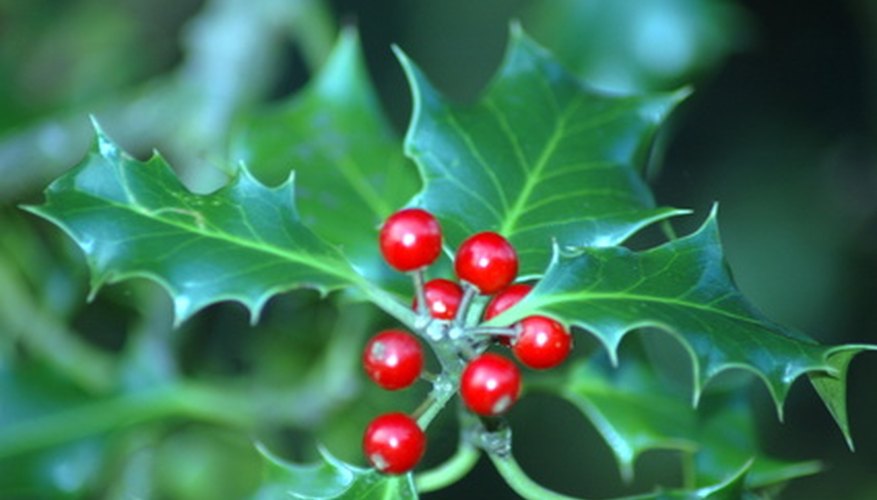 Western Pennsylvania is in USDA hardiness zone 4 though 6, an environment healthy for a variety of evergreen trees and shrubs. Varieties of pine, heath, holly and cypress evergreen plants are at home in Western Pennsylvania and commercially available for the home gardener to pick and choose from.
Types
Virginia pine (Pinus virginiana) is a North American native that is adaptable to poor growing conditions. Mountain laurel (Kalmia latifolia) is a broadleaf evergreen dwarf shrub. American holly (Ilex opaca) is a tree that grows in a symmetrical, pyramid shape. White cedar (Thuja occidentalis) is also known as eastern arborvitae, arborvitae and American arborvitae and is a member of the cypress family. The plant is an evergreen shrub with dwarf and regular size varieties.
Dimensions
Virginia pine grows from 20 to 40 feet tall, with a similar spread and a round, open crown. Mountain laurel reaches a height of 2 to 3 feet and spreads out from 2 to 4 feet. American holly measures 35 to 50 feet tall and 15 to 25 feet wide. White cedar grows from 3 to 50 feet tall and 8 to 15 feet wide, depending on the variety.
Characteristics
Virginia pine features thin, orange-brown bark, yellow-green, evergreen needles 2 to 4 inches long. Yellow flowers bloom in the spring and are followed by oval-shaped, brown, prickly pine cones from 1 to 3 inches long.
Mountain laurel produces pink buds that open to reveal clusters of white, cup-shaped flowers in May.
The oval or lance-shaped leaves of the American holly measure 2 to 4 inches long. The tree produces tiny, fragrant, green-white flowers that give way to red berries which are a favorite food of the local birds.
White cedar produces tiny, dark-green leaves growing tight against the stems. Flowers bloom in April and are followed by small green or chartreuse cones 1/3 inch long growing in clusters. Cones turn to brown in early fall.
Environment
Virginia pine is hardy in USDA zones 5 through 8. Plant in full sun and a clay, loam, sandy acidic soil that is moist and well drained. The tree grows on rocky soil that would be a problem with other members of the pine family.
Plant mountain laurel in full sun, partial shade or full shade and a soil that is moist, rich, acidic and well-drained. The plant is hardy in zones 4 through 8.
American holly grows in zones 5 though 9, likes full sun or partial shade and a moist, well-drained soil. The tree is able to stand up to extended flooding.
Plant white cedar in full sun or partial shade. Soil should be loamy, most and well-drained.
Uses
Use Virginia pine for bonsai, specimen trees and Christmas trees. Mountain laurel works as a shrub border and does well planted with rhododendrons and azaleas. Use American holly for bonsai, as a hedge, privacy screen, or a specimen or sidewalk tree. Plant white cedar as a foundation plant, informal hedge, on either side of a doorway, as a privacy screen or a stand-alone specimen plant.
Problems
Twigs and fruit from the Virginia pin cause litter. The wood also breaks easily. Mountain laurel is susceptible to leaf spots and leaf blight and infestation by borers, scale, white fly and lace bugs. American holly is damaged by the holly leaf miner scales and spider mites. The tree is susceptible to tar spot, leaf spot, cankers, spine spot, chlorosis and black root rot. White cedar is bothered by bagworms and is susceptible to heartwood rot. Branches in the upper canopy are damaged by heavy ice and snow.