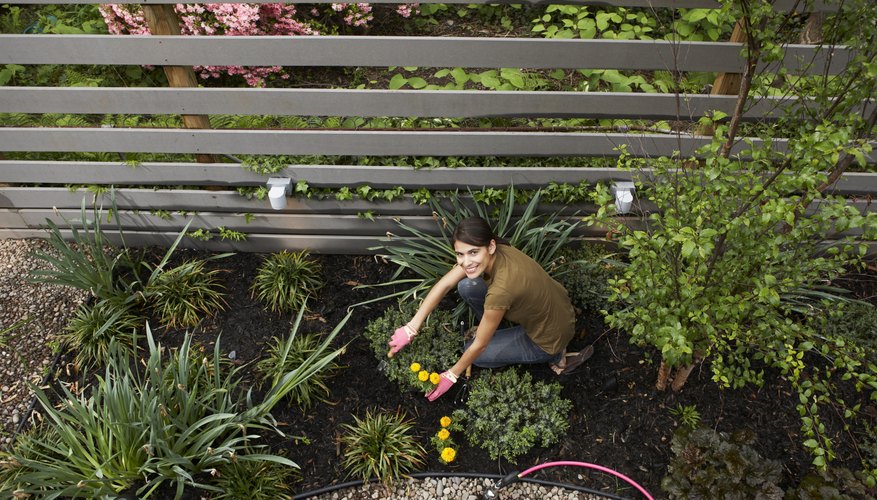 Chris Clinton/Photodisc/Getty Images
Helping others, learning more about gardening and landscape design and networking with other master gardeners are just a few of the activities that you can expect to be involved with as a certified master gardener. Before enrolling in a training program, be sure you have enough available time for the training and volunteering commitments involved. If you're passionate about gardening, becoming a certified master gardener enables you to gain advanced knowledge in addition to making a positive impact on your community.
General Information
An agent at a Washington State Extension Service created the master gardener program in 1972 as a strategy to service common homeowner questions while freeing himself and his team for complex problems. He selected the first candidates and conducted their training and certification. The program was such as success that it grew and spread across the country, becoming active in most states. The main prerequisites for acceptance into a training program include a passion for gardening, plants and the environment. Training costs vary from state to state.
Certification Requirements
Check with your local university extension program or horticultural society to learn more about the requirements in your specific state. Generally, candidates must complete an in-depth training program and specified number of volunteer hours, as well as pay a nonrefundable fee. The training program typically includes attending demonstrations, lectures and hands-on learning experiences, although some programs offer online training options. Expect to learn more about topics such as plant pathology, woody landscape plants, lawn care, home vegetable gardening, pest and disease management, landscape design, nutrition for soil and plants, water conservation, houseplants and plant propagation. Maintaining certification typically requires the master gardener to continue volunteering in addition to completing continuing education.
Benefits of Becoming Certified
Just as the requirements for becoming certified may vary from state to state, some of the benefits may also differ. Some of the universal benefits include the opportunity to gain in-depth knowledge about gardening and insects, learning about some of the newest gardening techniques and products and interacting with other master gardeners to exchange stories and information. As a master gardener, you can expect to further your knowledge while also having social opportunities when attending training sessions, conferences, garden tours and garden-related social events.
How Master Gardeners Impact the Community
Master gardeners are required to volunteer in the community as part of gaining and maintaining certification. They help individuals and groups by providing garden lectures, holding workshops, creating informative blogs or websites, organizing plant clinics and contributing to community and school gardens. Master gardeners work to raise fire prevention awareness, detecting and managing invasive plant species, promoting water conservation and promoting environmentally responsible practices such as reducing pollutants, protecting water quality and composting green wastes.