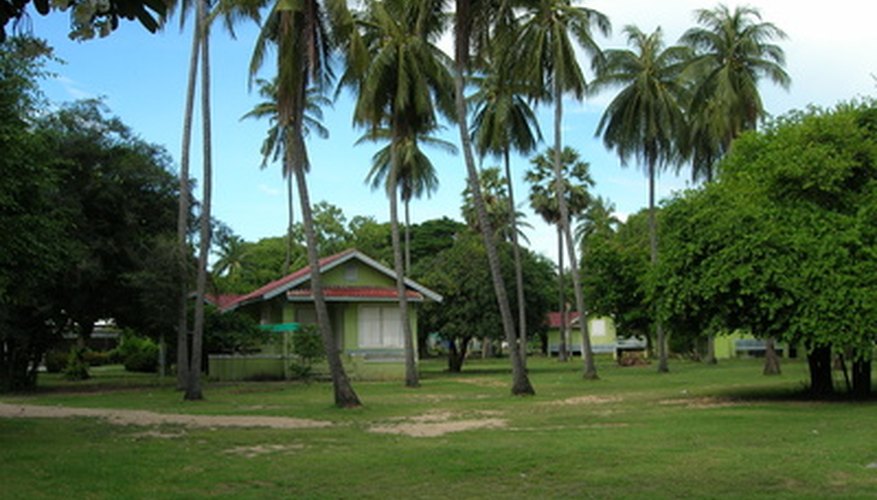 Imagine relaxing underneath a traditional, wooden sala pavilion, a Thai iced tea in hand, listening to the soothing sounds of water trickling from a nearby waterfall and winds blowing through the palm trees. The scene doesn't have to be set in Thailand because all of these features of a Thai garden are attainable in your own backyard. If you live in an area with mild winters, your tropical plants can stay outdoors year-round.
The Sala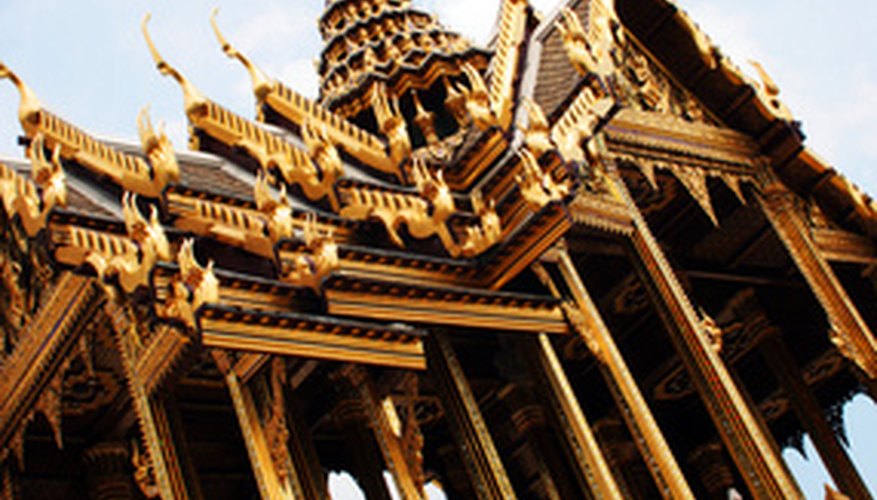 gold temple in thailand image by Gina Smith from Fotolia.com
Salas are open-air pavilions that are typically made from wood and have flowing, elegant and graceful shapes, according to the East-West website. In Thailand, the salas are traditionally made from teak, without nails, using a system of interlocking wood. Other traditional features include statues of serpent-like creatures, colored mosaic decorations or stilts to raise the sala up a few feet. A simple, wood pavilion, which is called a pergola in America, will recall the traditional sala.
Colors and Features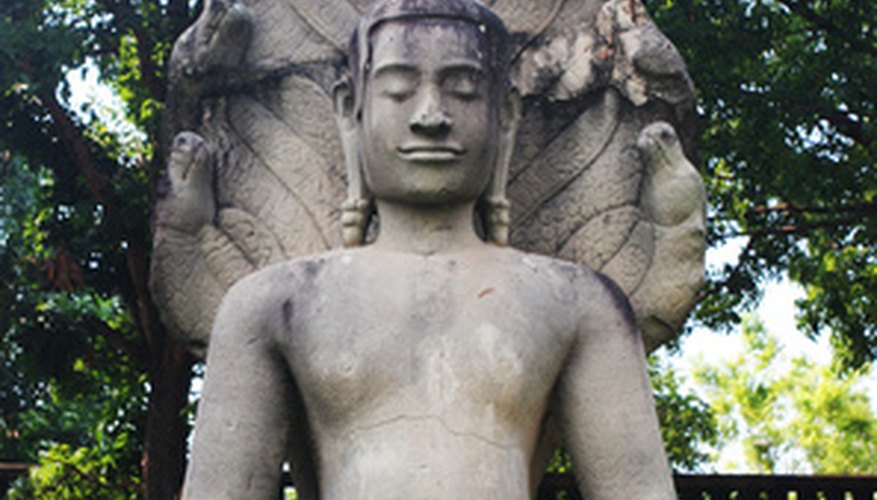 ancient statue in thailand image by Gina Smith from Fotolia.com
Inside the sala, use bright fabrics and bold Thai batik prints. Landscape designer Davis Dalbok, quoted in the Sunset website "Tropical Glam" article, recommends hot lime and aqua to create a tropical feel in pillows and furnishings. He adds a ceramic elephant and clusters of large pots to enhance what the "Sunset" editor calls his jungle-inspired garden. Dalbok also uses brightly colored, fringed umbrellas stuck in sand in large pots to shade garden chairs and chaise lounges. A statue of the Buddha would not be out-of-place in your Thai garden as well.
Plants
Plant tropical plants in the ground if winters in your area are relatively mild. In other climates, plant in large pots that you can move indoors when temperatures drop below freezing for extended periods. Colorful bromeliads do well in pots and are easy to grow: place those that are epiphytic, or grow in moss without soil, hanging from a fence or tree branch. Because bamboo is such an invasive plant, keep it in pots so it won't infiltrate the entire garden. Use any type of palm with large leaves or fronds, planted in a container or in the ground. Don't forget fragrant plants as well, such as gardenias or ginger.
Water Features
According to the Thai Garden Design website, water features appeared in ancient Thai gardens just as they do today. Design your own water feature of any size that fits with the proportions of your space. Choose a small trickle running down a large earthen vase, a small fountain gurgling from inside a stone, or a small pond with a mini waterfall. Even a large ceramic urn will work well as a water feature with a single water plant or two growing inside.