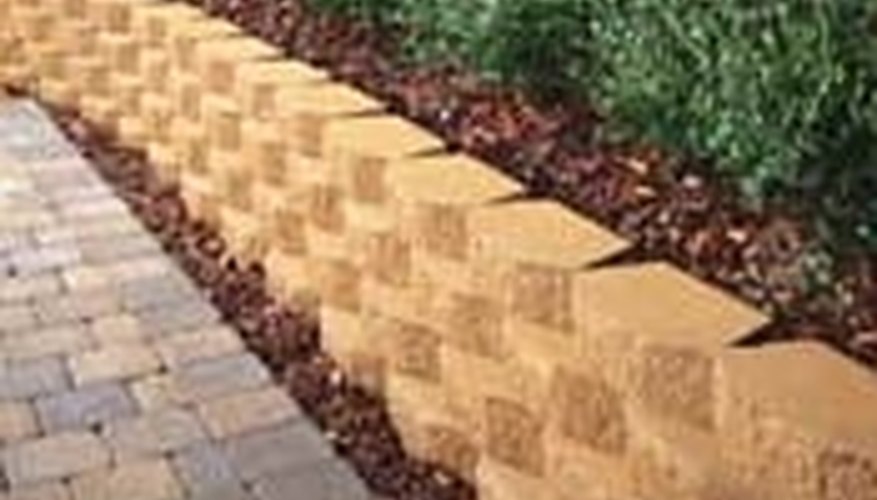 Retaining walls make beautiful additions to gardens, patios and overall landscaping. It's a decorative-- and very popular-- way to organize a yard. It's also one of those projects almost any homeowner can do. It just takes some planning and patience. Read on to learn how to build a landscaping retaining wall.
Use a measuring tape to come up with dimensions and determine where you will build the retaining wall.
Determine the linear feet of the project, so you know how many concrete blocks to purchase.
Make sure the area where the retaining wall will be built is clearly marked. Using spray paint will help.
Use a shovel to dig a trench. Make sure the trench is wide enough to fit a block plus a couple inches for rock. It needs to be deep enough to partially bury the first row of concrete blocks. Usually this will be 8 to 12 inches below ground level.
Add at least one inch of crushed rock to the trench. This will help make the base firm.
Make sure the trench is level by shifting the amount of crushed rock, so the blocks will be straight. Make sure the crushed rock is compact.
Place blocks side by side along the trench, leveling each one as you go.
If your rock wall includes multiple layers, stack the blocks in an alternating pattern. You can choose to recess the blocks or stack them straight on top of each other.
Place landscaping fabric between the concrete blocks and the dirt. When it rains, the dirt will be filtered and will not get the blocks muddy.
Fill the extra space between the concrete blocks and the landscape fabric with clean rock.
For end pieces and odd shapes, cut the blocks using a hand chisel or circular saw.
Things You Will Need
Shovel

Crushed rock

Concrete blocks

Landscape fabric (filter cloth)

Measuring tape

Level

Spray paint

Clean rock

Hand chisel

Circular saw
Tips
It's best to build a wall three feet high or lower. For larger projects, hire a professional.

The taller the wall, the better it is to recess the blocks.
Warning
Be aware of nearby trees. Their roots could eventually cause your retaining wall to shift or fall.
Resources