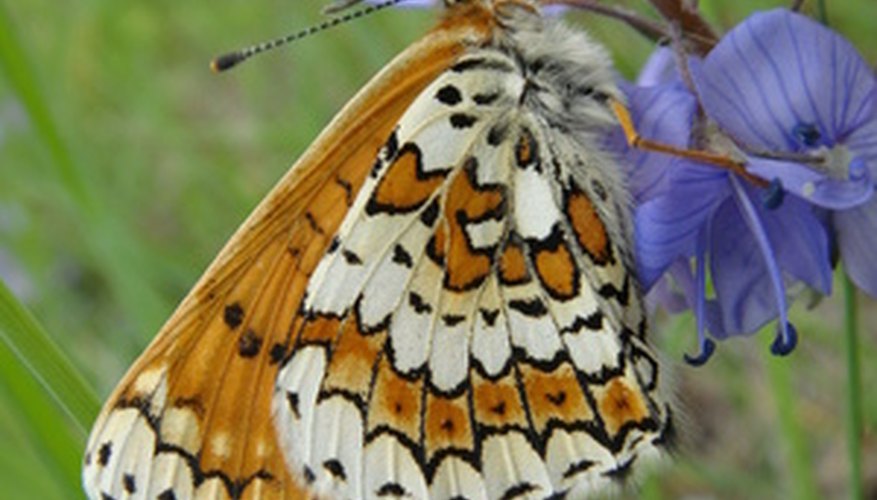 Penstemons are drought-tolerant plantain (Plantaginaceae) or figwort (Scrophulariaceae) family plants. Happy in a range of environments, they grow from Maine and Wisconsin's woods to the Arizona desert and California foothills. Different types of these five-stamened perennials have different growth habits, according to Arizona Cooperative Extension's Yavapai County Director of Agriculture and Natural Resources, Jeff Schalau. They may be colorful ground covers or showy, upright hummingbird or butterfly garden plants.
Foothill Penstemon 'Electric Blue'
'Electric Blue' is a commercial cultivar of the foothill penstemon (Penstemon heterophyllus) native to California's foothills. Its branches have narrow, green 2- to 4-inch leaves. Between May and July, bright blue, 1 1/2-inch tube-shaped blooms appear as open clusters atop 18-inch stems. Removing the dead flower clusters prolongs flowering. Plants are hardy to minus 10 degrees F--USDA plant hardiness zone 6, according to the Missouri Botanical Garden. Winter protection may help them in the lower end of that range. They like dry to averagely moist soil and full sun. Good drainage is essential.
Wild Foxglove
A moth magnet, wild foxglove (Penstemon cobaea) grows wild on rocky hillsides across the U.S. Midwest, South Central and Southwest regions. These figwort family penstemons stand 1 to 2 feet high, with thick green leaves ascending their strong stems. White, lavender or pink tubular blooms appear in April and May. Purple interior lines guide insects and hummingbirds to their nectar. Wild foxglove tolerates sun and partial shade. It grows best in dry, sandy or limestone-based loam with pH lower than 6.8, according to the Lady Bird Johnson Wildflower Center.
Rock Penstemon
Rock penstemon (Penstemon baccharifolius) has a bushy, upright habit. Native to Texas' Trans-Pecos and Edwards Plateau limestone bluffs, plants stand 1 foot to 18 inches high, with toothed, thick deep green foliage. Their extended blooming season lasts from June to September, according to the Lady Bird Johnson Wildflower Center. Bright red, tubular flowers appear in clusters along their stems, luring hummingbirds to the garden. The plants like dry, well-drained limestone-based soil and sun to partial shade, according to the Lady Bird Johnson Wildflower Center.
Hairy Beardtongue
Hairy beardtongues (Penstemon hirsutis) are multiple-stemmed plants. Growing up to 2 feet high, they have oblong leaves on hairy stalks. Hummingbirds visit in June and July to draw nectar from clusters of trumpet-like, white-edged lavender flowers. Hairy beardtongue grows wild on bluffs and in dry woods and fields from New England west to Illinois and south to Alabama. It tolerates full sun to full shade and dry, loose, well-drained soil, according to the Lady Bird Johnson Wildflower Center.