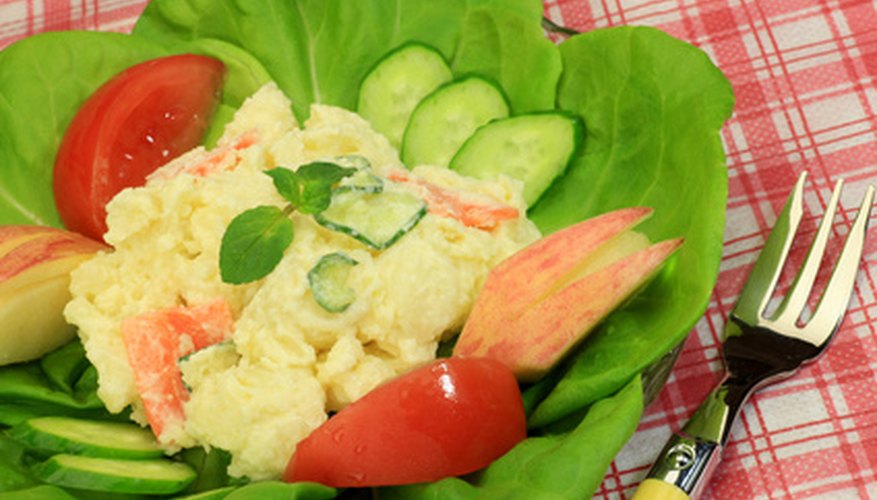 The Anya potato is an early-bearing, long, oval-shaped salad potato that has a reputation for good flavor and large harvests. Because it is an early variety, ripening in July, it often is not affected by potato blight. This potato was developed in the 1990s in Scotland, and it is popular in England and other European countries. The Allotment Growing Diary Web site reports that the Anya potato stores very well.
Growing Area Preparation
The potato bed can be prepared in the fall by digging composted manure deeply into the soil in a sunny area. The bed should be allowed to sit all winter in order to allow the manure to blend thoroughly with the soil. Potatoes prefer a well-draining soil with a pH of 5.0 to 5.2.
Chitting Helps Improve Quantity
When you chit seed potatoes, you let them sit in a box with their buds, or eyes, facing upward. Potatoes are kept in a dry, dark spot until they begins to send out growth from their eyes. Then they are moved to a spot that is cool but receives indirect sunlight.
Spring Planting
After the final spring frost, chitted potatoes should be placed into rows about 8 inches deep. Let's Go Gardening recommends sprinkling 7-5-12 fertilizer into the planting hole before you set in your Anya potatoes. After the foliage reaches 9 to 12 inches tall, the soil should be mounded around the base of each plant. Anya potatoes will require extra watering during dry weather.
Container Gardening
The Anya potato can be grown in a container that is 20 to 30 inches tall. Garbage cans and half wine barrels work well. There should be several drainage holes in the bottom of the container, or you can cut out the entire bottom and set the barrel on a soil surface to allow the potato's roots to penetrate deeper than the barrel allows. Anya potatoes should not be fertilized after they begin to form flowers.
Harvest Time
Anya potatoes are ready to dig up and use or store when the foliage turns yellow, usually about 12 to 14 weeks after planting. Stop watering until the tops look completely dead and then wait several weeks for the potatoes to cure in the soil. Then you can dig them up and enjoy them in potato salad and other dishes.
Resources