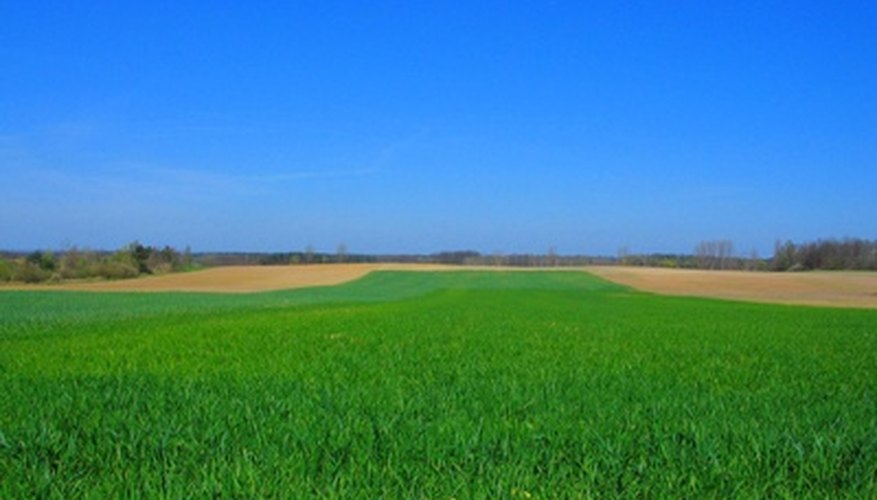 Wheat grass is the young grass of the common wheat crop. It is frequently used to make juice or is dried into powder form as a nutritional supplement for both people and animals. Wheat grass is not always easily found. It can be purchased online or in some specialty nutrition stores. For this reason, many people choose to grow wheat grass. It is a hardy grass that is grown in trays. It grows quickly and can be harvested eight to 14 days after it has been planted.
Check your wheat grass approximately seven to nine days after you have sown the grass into trays. Wheat grass will be ready for harvesting when it is 7 to 8 inches in length. If you allow the grass to get taller than 8 inches it will begin to get tough, become bitter and contain less juice. The grass that is bright green, tender and close to the roots is the grass that is highest in nutrition.
Cut the grass with sharp scissors or a sharp chef's knife. Cut the grass down to 1/2 inch tall. The closer you get to the bottom of the grass the better because that is where most of the nutrients are.
Place the grass into a juicer if you plan to make juice right away. The grass can also be chewed or stored in a plastic resealable bag in the refrigerator if you are ready to use it right away.
Grow the wheat grass in the tray for a second harvest. Once you cut the grass it will regrow in seven to 10 days. This can be harvested in the same way as the first batch. Do not harvest the grass more than twice because it will contain fewer nutrients.
Mulch the remainder of the wheat grass and its roots into the soil. Add a small amount of organic compost to the soil and you are ready to plant new wheat grass seed into the tray.
Things You Will Need
Sharp scissors

Chef's knife

Plastic resealable bag

Organic compost

Juicer