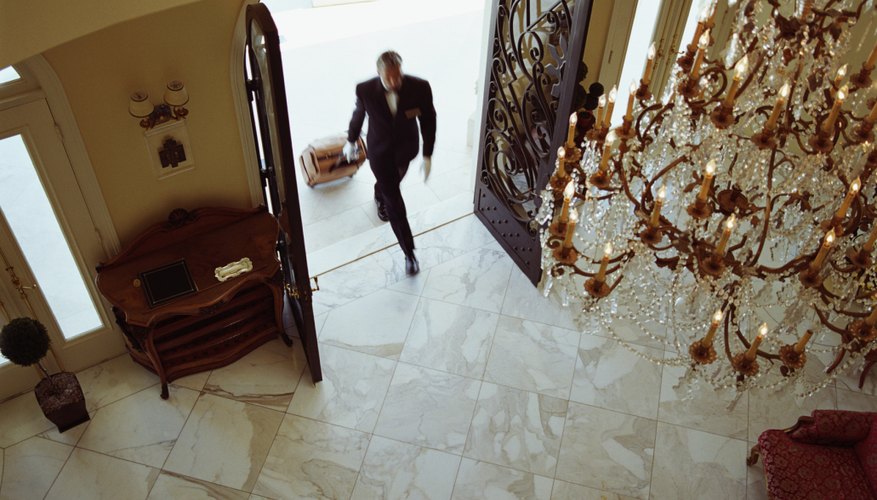 Siri Stafford/Digital Vision/Getty Images
Terrazzo floors feature smaller pieces of substances such as granite and marble in a concrete base. The surface of a Terrazzo floor, however, is perfectly smooth and polished. This can make it a little easier to clean. To completely restore your Terrazzo floors, however, you'll have to do so in a protective way that doesn't damage the surface. Unlike surfaces that aren't as smooth, Terrazzo floors may need to be restored because any damage will show up easily on such a consistent surface.
Use a vacuum cleaner that is safe to use on hard floor surfaces to remove dust and debris from the Terrazzo floors.
Fill your mop bucket with 1 gallon of plain water and mix in ½ tsp. of an oil soap product.
Clean the Terrazzo surface using a microfiber mop, focusing on a few feet of the floor at a time. Watch for small pieces of debris getting stuck on the map. These can scratch the floor surface.
Dry the Terrazzo floor with a terry cloth before it has a chance to dry. Buff the floor dry using a circular motion to help it shine.
Rinse the mop before moving onto the next area. When you see the water in the mop bucket get cloudy, mix up a new solution.
Things You Will Need
Vacuum cleaner

Mop bucket

Water

Oil soap

Microfiber mop

Terry cloth
Tips
If you only need to shine your floor, all you need is the buffers and the powders (steps 8 - 10.

To do 400 sq', I used 6 pads on the buffer.
Warnings
When buffing, BE CERTAIN THAT YOU CHANGE PADS FOR EACH CHANGE OF GRIT!!!

Make sure you keep track of the electrical cord when you are using the surface grinder (or any tool for that matter).

Unplug the surface grinder before changing the bricks.

Use a lot of common sense.