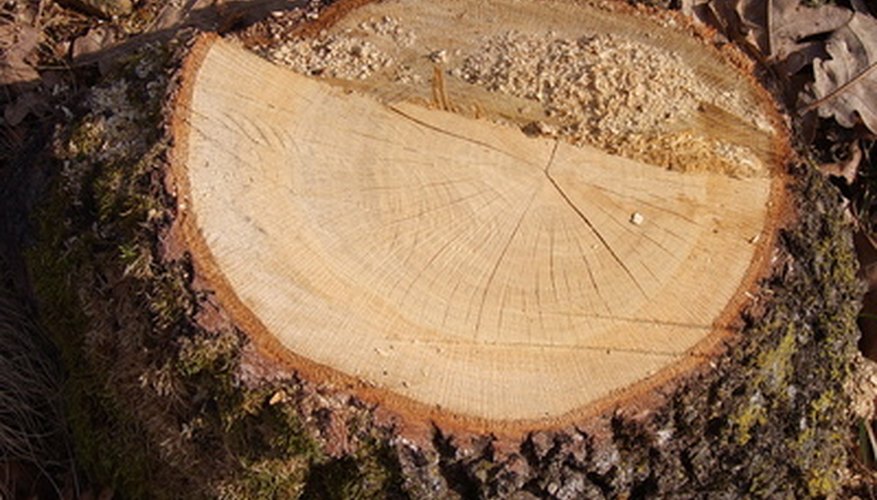 Once you have cut down a tree, you must still contend with the tree stump. While a tree stump may appear dead, it is still fighting to survive. The stump and roots may attempt to grow a new tree by producing tree sprouts known as suckers. In order to completely remove a tree and prevent this, you must pull up the tree stump. Pulling up is both the fastest and most labor-intensive way to remove a tree. Grubbing is very simple for smaller stumps, but is very difficult and labor-intensive for larger stumps.
Study information on the tree to determine the tree's root structure. Each type of tree has roots that grow with a different type of root structure. Trees such as hickory or walnut may grow from a central tap root while basswood and pine grow from a thick knot of roots known as a heart root. Sugar maples, cottonwood and silver maples grow with roots that fan out through the top 2 feet of soil in a flat root system. Knowing the tree's root structure will help you learn how many roots you must sever to remove the stump of the tree.
Dig a trench around the stump of the tree 2 feet wide and 2 feet deep with a grub hoe.
Cut all lateral roots you encounter as you dig your trench. Sever the roots with a grub hoe or axe, or dig up the dirt around the root and then lop the root in two with a pair of branch loppers.
Push smaller stumps to the side and sever the tap root with an axe. Twist the stump as you pull it from the ground to sever any remaining roots.
Wrap a winch cable around a larger stump.
Activate the winch to pull the stump free of the roots and hole.