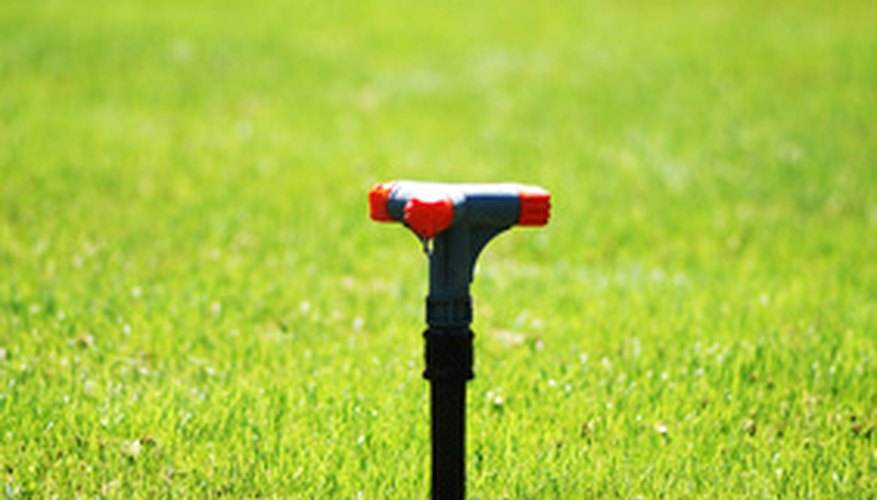 water sprinkler on the green grass lawn image by Elnur from Fotolia.com
According to North Dakota University, combining fescue with Kentucky bluegrass offers a turf that is resistant to high traffic, drought and most pests and diseases. Fescue species adapt well to shaded areas and will fill in where the Kentucky bluegrass may die from lack of sunlight. Mid-August to mid-September is best for seeding the grass mixture.
Prepare the new lawn area by cultivating it with the rototiller. Attempt to reach a final tilled depth of 4 to 6 inches. Remove all rocks, plant material and small roots with the garden rake.
Level and smooth the area with the garden rake. Fill in depressions with excess soil. Firm the soil with the lawn roller.
Combine the two grass seeds in the plastic bucket. Use 1 to 2 lbs. of Kentucky bluegrass seed and 6 to 8 lbs. of fescue seed per 1,000 square feet. Mix the seed together thoroughly with your hands.
Spread the seed evenly over the lawn area using the drop seeder. Move the seeder in two directions, perpendicular to each other, for good seed coverage.
Rake the seed into the soil with the tines of the leaf rake. Cover the soil and seed with a light covering of straw mulch, approximately two bales per 1,000 square feet. Run the lawn roller over the area to compact the seed and straw into the soil.
Irrigate the new lawn area. Apply water frequently three to four times a week. Keep the seed moist. Do not water to a point where puddles form.
Mow the new lawn when the grass blades reach a 3-inch height. Set the mower deck to 2 inches above the ground.
Spread the 29-3-4 fertilizer after the third mowing at a rate of 1 1/2 lbs. per 1,000 square feet of lawn. Keep the new lawn to the 2-inch height with the mower.
Things You Will Need
Rototiller

Garden rake

Lawn roller

Kentucky bluegrass seed, 1 to 2 lbs. per 1,000 square feet

Fescue seed, 6 to 8 lbs. per 1,000 square feet

Plastic bucket

Drop seeder

Leaf rake

Straw mulch, two bales per 1,000 square feet

Mower

29-3-4 fertilizer, 1 1/2 lbs. per 1,000 square feet
Tip
Although weeds will germinate in the new lawn, eventually the grass seed will begin to choke out the weeds. If you feel the need to apply an herbicide, wait until after the fifth cutting. Apply the herbicide at a reduced rate. Follow all label directions for herbicide application and frequency.