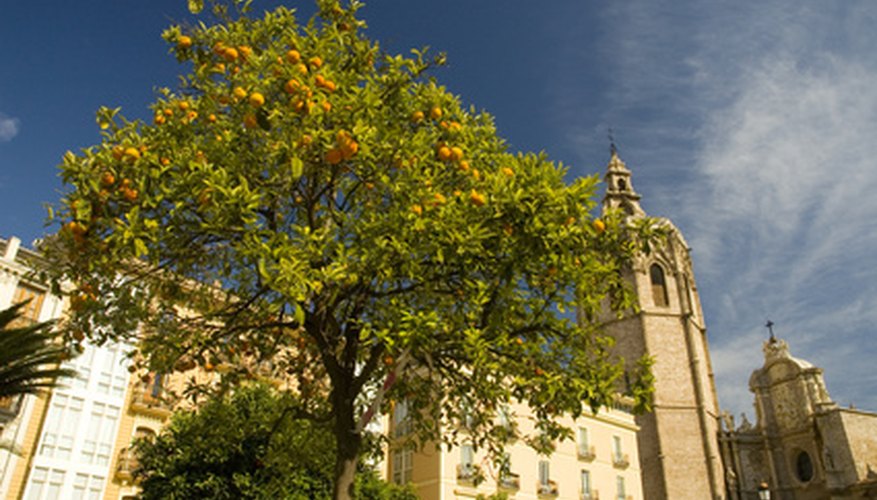 Citrus trees require continued care to minimize weed growth and ensure their root systems receive adequate moisture. Use a thick layer of mulch around citrus trees to help control weeds, to keep grass from encroaching upon a citrus tree and to keep the soil area moist. Choose a suitable mulch material and apply the mulch properly to protect citrus trees from fungal infections. With proper mulching techniques, expect the mulch to help improve the health and vigor of citrus trees.
Measure out from the citrus tree trunk with the yardstick and draw a circle around the tree between 1 and 2 feet away from the trunk with the chalk. This line will be the line the mulch must not cross to keep the mulch a healthy distance away from the trunk of the tree.
Lay down the mulch from the chalk line out to the drip line (the edge of the tree canopy). Apply the mulch in a layer between 3 and 6 inches thick.
Spread the mulch evenly with the rake to make it smooth and level.
Reapply additional mulch when the mulch layer absorbs and decomposes into the soil to keep the mulch layer the same depth.
Things You Will Need
Yardstick

Chalk

Shredded mulch (tree bark, shredded leaves or hay)

Rake
Warning
Placing mulch any closer to a citrus tree may create a fungal infection. It also makes it more difficult for the citrus tree roots to absorb water and nutrients.