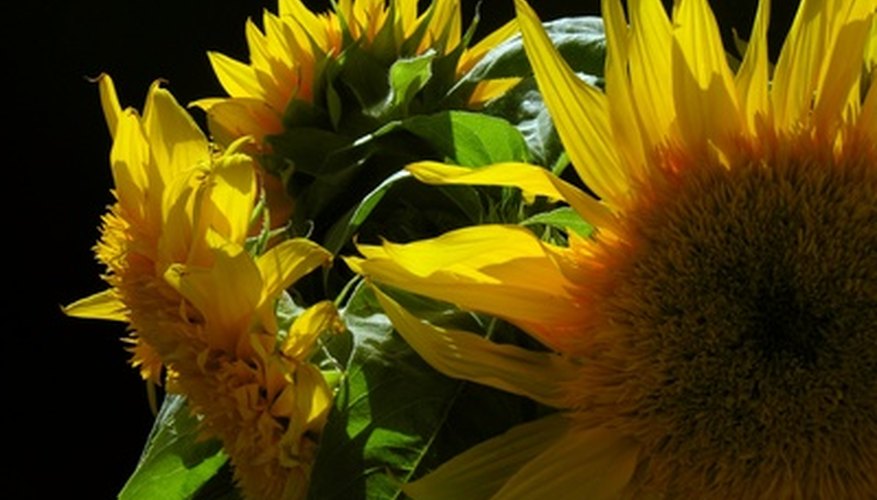 In the latter half of the summer when your sunflowers are reaching for the sky--some likely towering above you with their huge, nodding heads--consider how you can use these standards of summer in a flower arrangement. Sunflowers have an informal appearance and they add a happy touch to any summer bouquet with their cheery yellow petals and contrasting brown centers. Make a sunflower bouquet with these traditional beauties as the star of the arrangement and bring an air of summer into the house.
Fill the bucket with cool water. Clip the sunflowers from where they grow with the pruning shears. Select sunflowers at their peak of bloom and cut the stems approximately 24 inches long. Place the sunflower stems into the bucket of cool water immediately. If you visit a florist for your sunflowers instead, select sunflowers at peak freshness. Transport your sunflowers home in water to prevent them from wilting.
Fill the vase with cool water and add the flower food packet to the water. Stir the water to dissolve the flower food.
Start a cool stream of water from the kitchen tap and place a sunflower stem under the running water. Cut the sunflower stems again with the pruning shears, cutting the stems off at a 45-degree angle. Remove any leaves from the bottom portions of the stems to make sure no leaves will sit beneath the surface of the water. Make sunflowers with larger blossoms approximately 8 to 10 inches taller than the entire vase height. Make sunflowers with smaller blossoms approximately 4 inches shorter than the larger sunflowers.
Place the larger sunflowers into the vase first, grouping them together in the center of the vase. Add the smaller sunflowers last, using them to surround the large, center sunflowers. When you finish your arrangement, you will have large and tall sunflowers in the center and shorter and smaller sunflowers surrounding the perimeter of the arrangement.
Change the vase water every day for best results. Sunflowers absorb water quickly in an arrangement and they will last longer if you keep cool, fresh water in the vase at all times. If you do not have more cut flower food, dissolve 1 tsp. of sugar in the cool water after you fill the vase.