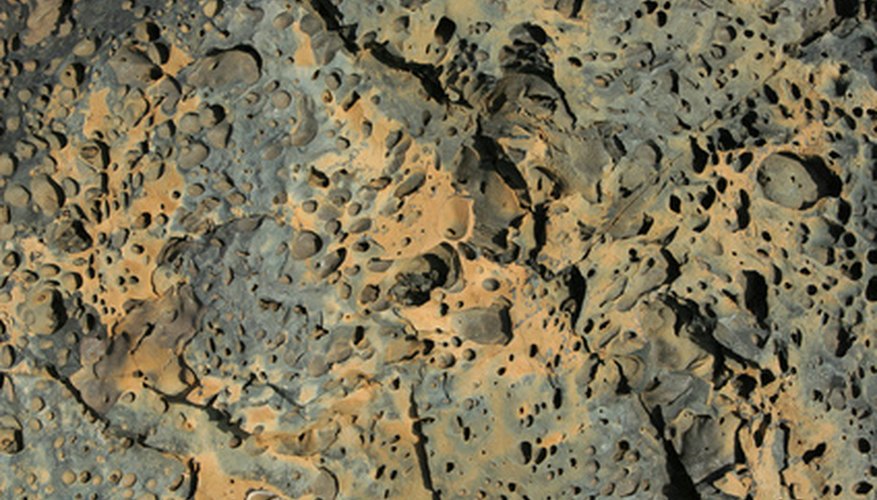 Although natural mulches look very nice in the home landscape, they have several drawbacks. Organic mulches provide a growing medium for grass, weeds and other plants. Additionally, the organic mulches decompose and require replacement over time. Inorganic mulches such as lava rocks do not decompose and do not require replacement. Unlike pea gravel or other rock mulches, lava rocks do not heat to a higher temperature thanks to its insulating air pockets.
Prepare your planting bed in advance by breaking up the soil to a depth of 12 inches with a rototiller and removing weeds.
Spread organic soil amendments such as compost and peat moss over the soil. Organic amendments will help improve the soil structure and nutrient content of the soil. Mix the organic amendments into the soil with the rototiller.
Dig planting pockets for your plants that are twice as wide as the plant's root ball, but no deeper. Place plants into the planting pockets. Fill in the soil around the plants. Select perennial plants for landscaping in lava rock. Perennials have a lower water requirement, and do not need to be replanted yearly.
Wind a drip irrigation or soaker hose around the edges of the plant root zones. Placing your irrigation hose beneath the surface of your mulch will help trap the water in the root zone and prevent evaporation.
Measure your planting bed and cut a sheet of plastic landscaping fabric to match. Cut holes that correspond to the location of your plant root balls inside the fabric. Then cut slits from the edges of the holes to the edges of the fabric to make it easier to slip the plastic around the plants.
Slide the black plastic mulch in place. Tack the fabric down with plastic landscaping pins.
Dig a trench around your landscaping bed. Place a landscaping border such as a concrete hardscape, metal border with stakes or flexible plastic border into the trench and cover with soil. Tuck the edges of the black plastic mulch into the edges where the weed barrier meets the soil. A border around your bed will help to keep lava rock mulch in place.
Shovel a layer of 3 to 4 inches of lava rock over the surface of your planting bed around the plants.