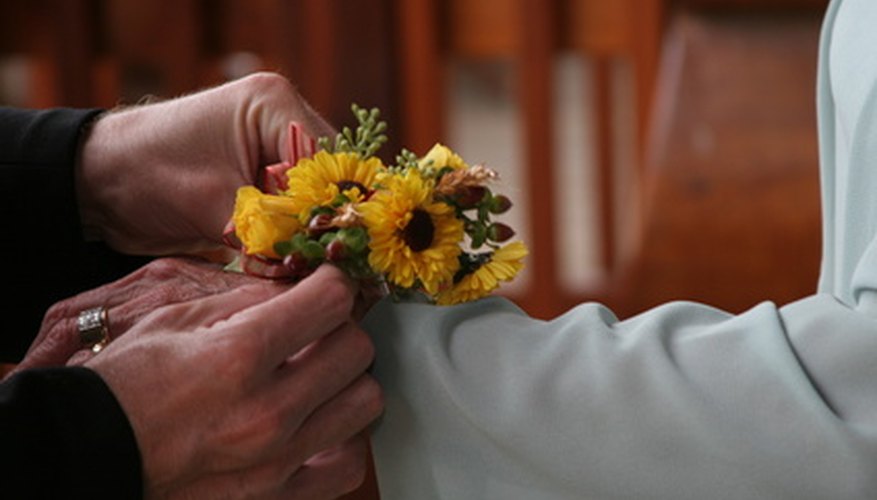 Dress up your ensemble with a wrist corsage made from fresh flowers and foliage. This mini-bouquet enhances your overall appearance, adds natural decoration and frees your hands so you can dance, eat or meet people during an occasion. Resembling a bracelet decorated with real flowers, wrist corsages are worn to a variety of gatherings both big and small, including weddings, dinners, birthdays and prom night. Use fresh flowers with beautiful, well-formed blooms or buds so the corsage looks beautiful even from a distance.
Spread the flowers on a work table. Inspect the blooms for damage or disease and replace if necessary. Measure and trim stems of flowers and foliage down to 2 inches with a sharp knife, ensuring the cut is straight and not jagged. Discard the cut stems.
Lift the two main flowers and arrange them so their stems cross one another and their blooms face opposite directions, like an X-shape. Secure the point where the stems overlap with floral tape.
Place the forming arrangement on a table and lower two filler flowers or buds over the intersection to conceal the tape and any visible stems. Lift the arrangement carefully and wind floral tape around the stems to secure them in place. Add the remaining filler flowers or buds around the arrangement to add more color and give it a fuller look. Secure the stems to the floral stems with tape.
Hold the arrangement in one hand and position foliage stems around the flowers to structure it. Depending on personal taste, arrange these all around the blooms, or on any two adjacent sides. Secure the foliage stems to the remaining stems with floral tape.
Flip the corsage carefully and snip excess stem length. Place the arrangement on the table.
Place elastic band around your wrist to determine the amount you need. Wind it taut so it does not droop. Add 1/4-inch length to overlap on each side and cut excess off with sharp scissors. Stitch the edges together with a needle and matching thread to form a bracelet, and lower it on the table.
Place the fresh flower arrangement over the elastic band to cover its top, or the part that goes over your wrist. Rearrange if necessary so the band is not visible from the top. Sew over the stems to secure the arrangement to the band.