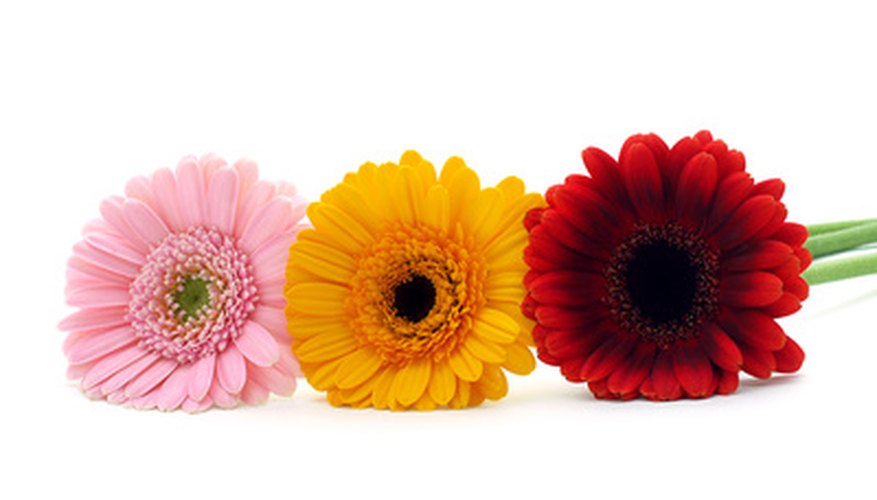 The striking colors of gerber daisies in a flower garden bring satisfaction and pride to many gardeners. Often a gardener will clip at least some of these summer beauties and bring them indoors for fresh arrangements. Go one step further and preserve a gerber daisy to enjoy it year-round. The preservation process is simple and you can completely preserve a gerber daisy in less than one week. Once you dry your daisies, create dried arrangements full of bold and lovely daisy blossoms.
Clip the gerber daisies from the plants early in the day after any moisture evaporates from the plants. Select daisies at peak beauty and freshness.
Combine 1 part borax and 1 part cornmeal in a large bowl.
Clip the stems from the gerber daisies to leave a 2-inch stem protruding from the bottom of each blossom.
Add approximately 1 inch of the borax and cornmeal mixture to the bottom of the box.
Set the gerber daisy blossoms upside-down on top of the borax and cornmeal. Do not allow the blossoms to touch each other in the box.
Add more borax and cornmeal carefully around the daisy blossoms to cover them completely with the dry ingredients. Continue adding the borax and cornmeal until only the top inch of the stem sticks out.
Place the lid on the box and set the box in a cool and dry location with plenty of air circulation. Allow the box to sit undisturbed for five days.
Check the gerber daisies after five days to assess their dryness. If the petals feel papery dry, the blossoms are dry enough. If the petals still have moisture in them, allow the blossoms to dry for another one to two days.