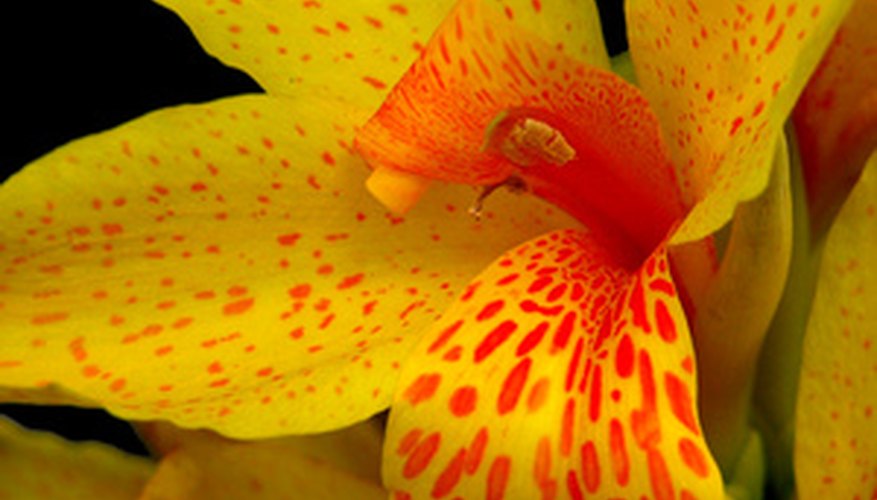 Oklahomans know a thing or two about growing canna. The world's largest exclusive canna grower, Horn Canna Farm, is a few miles north of Carnegie. Jolene Horn Snow, one of the operators of the farm, claims that you don't need a green thumb to grow canna in Oklahoma as they are low maintenance and thrive all over the state. You will need to remove the rhizomes in the fall and store them over the winter if you live in the northern part of the state. Plant the canna rhizomes in the Oklahoma garden from mid-March to mid-April.
Determine where you will plant the canna. The plants require full sun, at least four hours per day.
Add a 3-inch layer of well-rotted manure to the planting bed and mix it in to a depth of 8 inches.
Dig holes deep enough so that the canna rhizomes will be covered with 2 inches of soil. When planting more than one canna, space them 12 to 18 inches apart. Drop the canna bulbs into the holes and cover with soil. Canna rhizomes have no top, so it doesn't matter which end is pointed down.
Water the canna bed to a depth of 6 inches. Water again every week. Keep an eye on the moisture content of the soil on particularly warm, dry summer days in Oklahoma. If it appears to be drying out, water more frequently.
Things You Will Need
Well-rotted manure

Gardening trowel